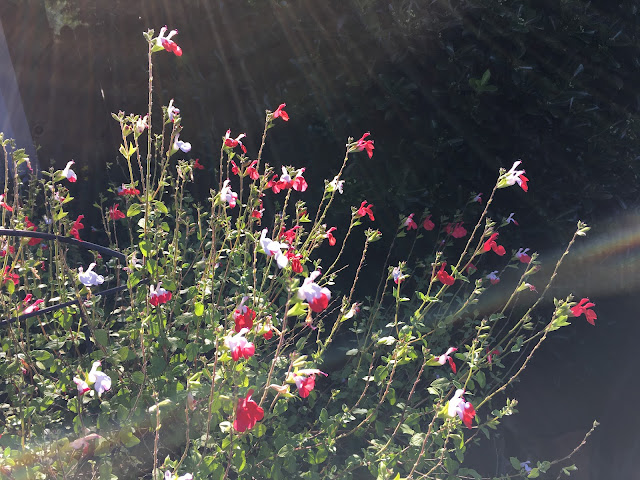 Salvia, such as the popular "Hot Lips" variety, is a good choice for firescaping
as well as for drought resistance. Learn about firescaping during a free class
Saturday. (Photo: Kathy Morrison)
When it comes to wildfire, your landscaping can help save your house or cabin.
Learn how during a special free public class hosted by gardening and fire experts – local master gardeners and firefighters.
This in-person presentation is a collaboration between the UC Cooperative Extension Master Gardeners of El Dorado County and the El Dorado Hills Fire Department, with a local fire station (No. 85) serving as classroom.
From 9 a.m. to noon Saturday, July 23, El Dorado County master gardener Kit Veerkamp will team with Tim White, also a master gardener and a member of the fire district's board of directors. They'll focus on home hardening – ways to make it tougher for fire to ever get a toehold near your house. The class also will cover current guidelines and recommendations about defensible space as well as what to plant in a fire-wise landscape.
"Fire Resiliency for El Dorado Hills" will particularly highlight the challenges faced by fire-prone Sierra foothills communities. That includes both firefighting and drought. A fire-wise garden can be water-wise, too.
A big difference between firescaping and low-water gardening: Plant choice. Such favorite low-water Mediterranean plants as rosemary burn easily due to the high oil or resin content in their leaves. Evergreen conifers such as pines also may not be fire-wise – even though they may be native. Low-water native grasses tend to burn rapidly.
Among the plants recommended for firescaping: Daylily, butterfly bush, lavender, salvia, coreopsis and ceanothus.
No advance registration is necessary for Saturday's class. El Dorado Hills Fire Station No. 85 is located at 1050 Wilson Blvd., El Dorado Hills.
For more information, email
mgeldorado@ucanr.edu
or call 530-621-5512.
Details:
https://mgeldorado.ucanr.edu/