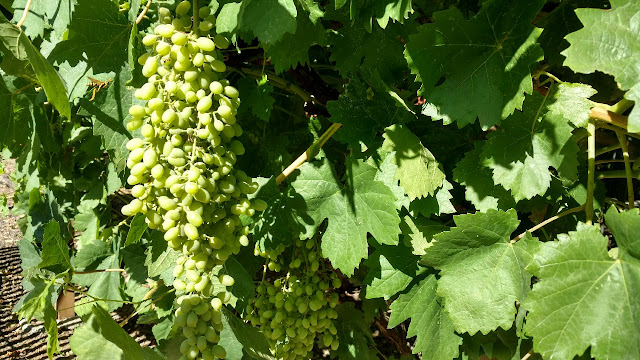 Learn to turn raw grapes into wine in a beginners' class next month. (Photo:
Debbie Arrington)
Got grapes? Maybe it's time to learn how to make wine!
Sacramento Home Winemakers, a local club devoted to helping folks safely make their own vino, is hosting a beginners' class, "Winemaking 101." Set for Aug. 4 and 6, it's a wonderful opportunity to learn a lot about the basics of turning raw grapes or fresh juice into something drinkable for years to come.
It's not uncommon in our region for gardeners to grow grapes; vineyards obviously thrive in our climate. More and more grapevines are covering fences and trellises in suburban backyards.
Sometimes, those vines were planted by someone else – and came with the house.
"People are moving into new digs with small, home wine-grape vineyards, but they don't know how to make wine," says Gin Yang of Sacramento Home Winemakers.
Or you can get your grapes from someone else; this group has sources for grapes, too.
This class is designed for those aspiring DIY winemakers as well as a refresher course for folks who have made their own wine before. And the class comes in time for this fall's grape harvest and the group's New Winemakers Group Crush.
With seven hours of instruction, the workshop is divided into two parts: 6:30-8:30 p.m. Thursday, Aug. 4, via Zoom; and in person 9 a.m.-2 p.m. Saturday, Aug. 6, in Granite Bay. (Location supplied after registration.)
"We'll guide you through the essential steps, throw in a little chemistry, taste wines, and have lots of fun," say the organizers.
The workshop includes:
-- Steps for making white and red wines.
-- Resources for getting supplies and chemicals.
-- Safe use of winemaking equipment.
-- Where to source wine grapes.
-- Finding mentors and resources.
-- Learn about this harvest's New Winemakers Group Crush.
Space is limited. Registration is open now. The workshop is free to SHW members; $30 for non-members. But join the club and workshop fee will be waived.
Questions? Contact WM101 Coordinator Joe McGillivray at 916-261-9438 or WM101@sachomewine.com.
Details and link to register: www.sachomewine.com .