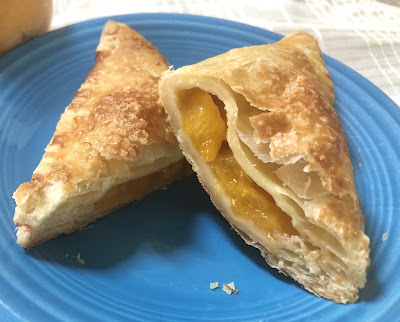 A peach turnover is a delightful and easy pastry
for summer breakfast or dessert.
Local peach season stretches longer than those for cherries and apricots, but it still goes too fast for me. And it's so hot, which means turning on the oven is a chore, even for something as great as peach pie.
I decided to use one of our cooler mornings to make a batch of peach turnovers, inspired by several recipes online,  including this one from justataste.com . Turnovers are as fun as pie, but easier, thanks to pre-made frozen puff pastry. The only tough part is remembering to defrost the package overnight.
(Note: All-butter puff pastry is out there but can be tough to find. The more common Pepperidge Farm pastry works just fine.)
The turnovers are great for brunch or dessert, of course, or even for a picnic -- more portable than pie, cake or cupcakes. I like that this recipe uses just a bit of sugar, letting the natural peach flavor come through. Use the sweeter white peaches if you prefer those.
Peel the peaches or not, depending on your preference and how fuzzy they are. Any leftover filling can be used in a mini peach crisp: I put it in a mini pie pan, sprinkled granola over it and added a few bits of butter. It can bake alongside the turnovers or afterwards, until the filling is bubbly. Or stir the leftover filling into vanilla yogurt.
The peach filling for the turnovers can be augmented with berries -- raspberries would be great -- and the spice adjusted to preference. I like just a bit of nutmeg, but cinnamon or allspice also would be lovely.
Just-peachy turnovers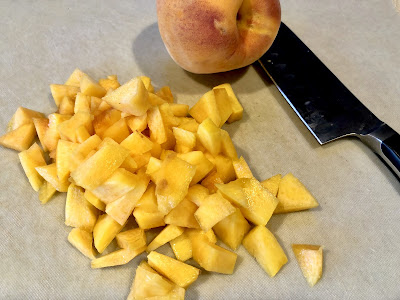 Peeled or not, yellow peaches make a delicious filling for
summer turnovers. Add some berries if desired.
Makes 8 pastries
Ingredients:
One 17.3-ounce package frozen puff pastry, defrosted according to package directions
2 large or 3 medium ripe yellow peaches, washed, peeled (optional), pitted and diced
1 tablespoon fresh lemon juice
1 tablespoon plus 1 teaspoon brown sugar
1/4 teaspoon freshly grated nutmeg or ground cinnamon or allspice
1/4 teaspoon arrowroot starch or cornstarch
1/4 teaspoon salt
Flour, for work surface
1 egg, for egg wash
1 teaspoon water
Demerara sugar or sanding sugar, for sprinkling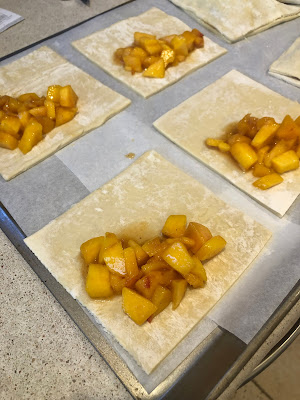 Place the filling in one corner of the pastry

square.

Instructions:
Preheat oven to 375 degrees. Prepare a large baking pan or two smaller pans with parchment paper; set aside.
Measure the diced peaches -- you should have at least 2 cups. Pour them into a medium bowl and stir in the lemon juice, brown sugar, nutmeg or other spice, arrowroot starch and salt. Allow to macerate for 10 minutes.
Meanwhile, prepare the pastry. Lightly dust a work surface with flour. Remove one sheet of puff pastry from the package, unfold it and lay it on the flour-covered surface. Pinch together any cracks in the pastry. If desired, roll it out, lightly, once or twice. Cut the pastry sheet into 4 equal squares and move them to the prepared baking pan.
Pile about 2 tablespoons of the peach filling on one corner of each square, about 1/2 inch from the edges (see photo). Gently fold over the pastry to form a triangle and lightly press the edges down. (Full sealing will happen in a minute, so don't do it yet.)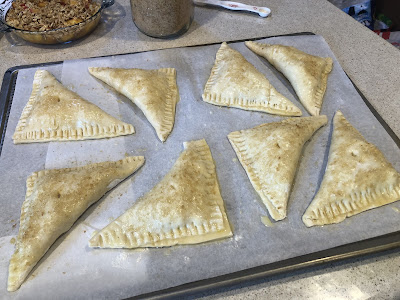 The turnovers are ready for the oven.


Repeat the process with the other sheet of pastry. Once all the squares have filling and are gently folded, here's your chance to add a bit more filling if you feel you shorted any of the squares. (I always am too cautious when I first start filling such things.) You still might have leftover filling, but that's OK -- see the note above about a mini peach crisp.
After you're happy with the filling distribution, seal all the turnovers  by pressing along the edges with the tines of a fork.
If the dough is beginning to get a little soft at this point, pop the baking pan into the refrigerator or even the freezer for a few minutes while you prepare the egg wash.
For the egg wash, stir together 1 egg and 1 teaspoon of water. Brush it onto the tops and sealed edges of the turnovers, then sprinkle on Demerara sugar or sanding sugar. Cut a small slit in the top of each turnover to vent.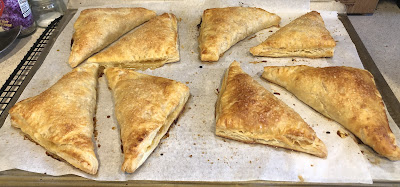 The turnovers cool on a rack after baking.
Bake for 18-20 minutes until the turnovers are golden brown and the filling is bubbling.
Remove pan from oven and cool on a rack. Serve turnovers warm with ice cream or at room temperature with fresh berries if desired.
Wrap any extras in foil and refrigerate.
Unbaked turnovers, without egg wash, can be frozen for later baking.