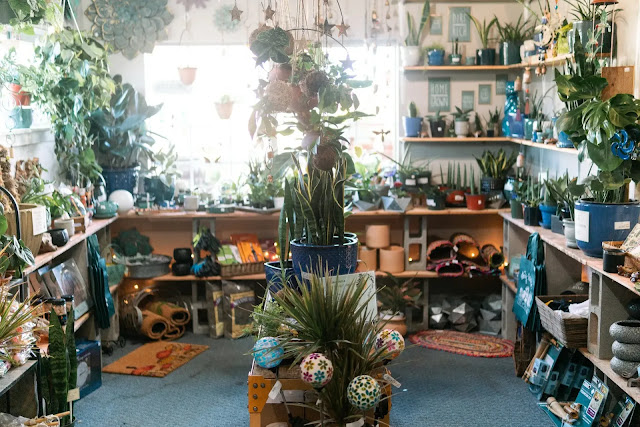 The Secret Garden's Houseplant Happy Hour offers shopping specials as well as
the chance to get great advice on growing houseplants. Snacks, too. (Photo
courtesy The Secret Garden)
When it's too hot to be outdoors, gardeners can turn their attention to houseplants. Satisfy the urge to nurture while staying out of the midsummer heat. And a cool drink helps, too.
Learn about houseplants while shopping for some new favorites at The Secret Garden's Houseplant Happy Hour.
Set for 3 to 6 p.m. Tuesday, Aug. 2, this free event invites indoor-plant lovers to explore The Secret Garden's collection while enjoying complimentary wine and snacks. Giveaways and discounts will be offered; the August Happy Hour special features 15% off on all houseplants and indoor pottery.
It's also a great opportunity to get advice about houseplants: How much light does a particular plant need? How much water? Which varieties do best in your home's environment?
Discover unusual varieties and perhaps something you've never seen grow before.
According to national polls, indoor gardening is more popular than ever. Houseplant sales jumped 41% in 2021 (over 2020). Among the plants seeing a surge in new popularity are kalanchoes, alocasia and bromeliads. Anything with variegation or multi-colored foliage is hot.
Also popular right now are plants that do a good job filtering indoor air such as dracaena, spathiphyllum or pothos.
The Secret Garden is located at 8450 W. Stockton Blvd., Elk Grove.
Details: www.secretgarden-online.com .