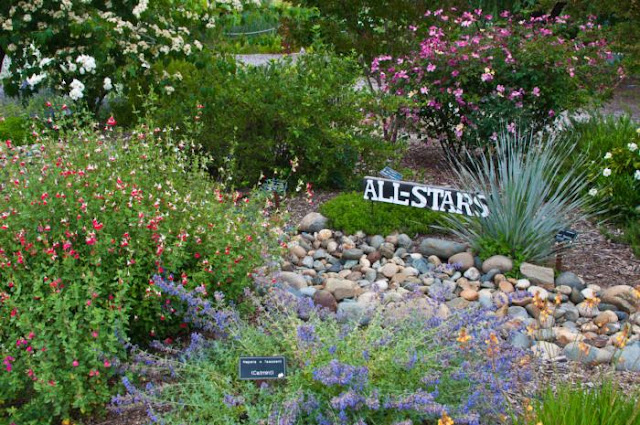 The All-Stars Garden is one of 16 at the El Dorado master gardeners' Sherwood Demonstration Garden. (Photo courtesy El Dorado master gardeners)
Interested in vegetable growing in the Sierra foothills? Or do you have other garden questions that need a foothill perspective? Then, check out Open Garden Days on Friday and Saturday, Aug. 5 and 6, at the Sherwood Demonstration Garden.
Hosted by the UC Cooperative Extension Master Gardeners of El Dorado County, Open Garden Days include activities and advice in all 16 demonstration gardens tended at Sherwood. Hours are 9 a.m. to noon each day.
In addition, a workshop devoted to fall and winter vegetable gardening will be held at 9 a.m. Saturday.
"It's time to start planning and planting your fall and winter garden!" say the organizers. "Join UC Master Gardener Zack Dowell to learn best practices and plant recommendations for a successful fall and winter growing season in your vegetable garden."
Also at 9 a.m. Saturday, a guided tour of Sherwood's 16 gardens will be offered.
Parking and admission are free. Master gardeners will be on hand to discuss your garden and landscape questions.
"As master gardeners, we are committed to educating the general public on sustainable horticulture and pest management practices based on traditional, current, and evolving research," explain the master gardeners.
"It is our goal that the Sherwood Demonstration Garden will provide the public with a hands-on, interactive experience about research-based, sustainable gardening practices specific to the west slope of El Dorado County, appropriate for all ages and cultures, and reflective of a variety of environments and gardening experiences."
Sherwood Garden is located at 6699 Campus Drive, Placerville, on the campus of Folsom Lake College's El Dorado Center.
Details and directions: https://mgeldorado.ucanr.edu/ .