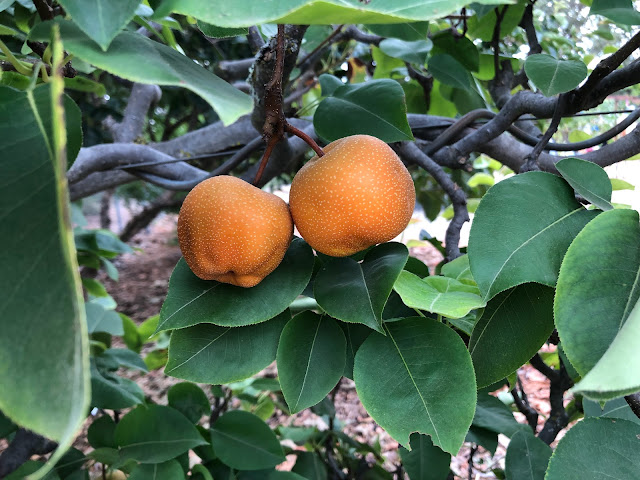 Asian pears grow on an espaliered tree at the Fair Oaks Horticulture Center. (Photos: Kathy Morrison)


Ever see a pawpaw? What about an atemoya or a pluerry? Those are just a taste of the exotic fruits that grow in the Fair Oaks Horticulture Center's demonstration orchard.
Designed to be easy-care and easy-picking, the orchard is pruned for compact spaces – such as a typical Sacramento backyard. But small spaces can produce big harvests.
See for yourself Saturday, Aug. 6, during Harvest Day, the Sacramento region's celebration of gardening know-how.
Hosted by the UC Cooperative Extension Master Gardeners of Sacramento County, this free event is annually Sacramento's biggest free garden party. But due to pandemic restrictions, this will be the first in-person Harvest Day since 2019. Hours will be 8 a.m. to 2 p.m. Admission and parking are free.
Sacramento County master gardener Quentyn Young, a longtime professional nurseryman, oversees the 60-tree orchard. Young and other volunteers will be on hand Saturday to answer all sorts of questions. What's the best tasting peach? How can you get more fruit in a small tree? Can you grow tropical fruit in Sacramento?
At the Fair Oaks Horticulture Center, the master gardeners experiment with techniques of care as well as testing varieties for hardiness, disease resistance and flavor.
Says Young, "We grow a lot of fruit: Peaches, nectarines, plums, pluots, pluerries, cherries, apples, pears, Asian pears, avocado, atemoya, pawpaw, guavas, figs, pomegranates, persimmons and all kinds of citrus.
"We're having a really good fruit year, especially peaches and plums," he adds. "(Ripening) is maybe running a week early, but it's pretty close to our harvest guidelines."
The master gardeners keep their fruit trees short – under 7 feet. That makes their harvest easier to pick (no ladders necessary) as well as reduces the water needs of each tree. (There's less tree!)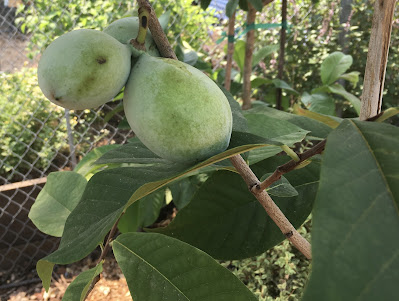 Ever seen pawpaws? This Shenandoah variety grew in 2018
in the FOHC orchard.
For irrigation, this little orchard uses microsprayers, explains Young. "They're usually deep-watered once a week; in July and August, twice a week if needed. The microsprayers put out 25 to 35 gallons an hour, so they run about an hour. We budget 25 gallons per tree per week."
Young trees (under 3 years old) may need extra water to get established; figure an extra 5 gallons per week. To retain that moisture and keep roots comfortable, use lots of mulch. That also keeps down water-robbing weeds.
"Mulch definitely helps," Young says. "We have layers and layers of wood chips, a mix of everything (Sacramento County) crews chipped. We put down a fresh layer two or three times a year."
Some fruit trees get by with less water better than others; in fact, they prefer it, Young notes. "All the biblical fruit: Olives, almonds, pomegranates, grapes, dates, figs. They're native to the Mediterranean or desert regions. (Most varieties) require very little water. Everything else needs weekly irrigation."
Fair Oaks Horticulture Center is located at 11549 Fair Oaks Blvd., Fair Oaks, in Fair Oaks Park. Details: https://sacmg.ucanr.edu/ .