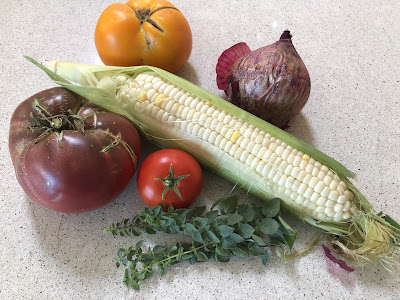 Such great produce -- why cook it? Tomato fans,
that's a Cherokee Carbon, a Chef's Choice Orange and a
Better Bush red tomato. (Photos: Kathy Morrison)
The tomatoes and sweet corn are so good now, it's almost criminal to cook them -- not to mention too hot (usually) to do so. This recipe, adapted slightly from one by the New York Times, puts those stars of midsummer produce to work as the basis for Sunday lunch or midweek dinner.
This is almost a no-recipe recipe. The veggies, including red onion, are sliced thin and layered, then sprinkled with salt, pepper and fresh oregano. (It's versatile, too: Add peaches or arugula to the mix, or sub in scallions for the red onion, for example.)
What binds this dish together? Hot-off-the-grill protein, such as chicken or pork chops or steak or halloumi cheese. Or avoid cooking altogether and top the vegetables with warm pieces of a store-bought rotisserie chicken. The key is the spicy drippings that act as a warm dressing.
When we enjoyed this for dinner, with boneless chicken thighs as the topping, I upped the ante by serving a green salad topped with slices of super-ripe homegrown muskmelon, as fragrant as a perfume counter. Add a slice of artisan sourdough on the side and you have a summer meal to remember.
Tomatoes and corn with grilled 'dressing'
Serve 4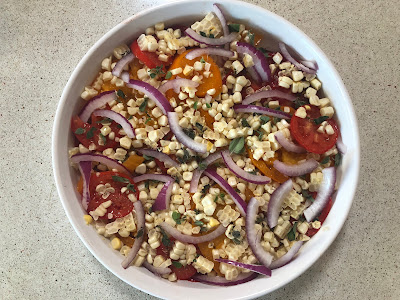 Here's the veggie base. Add the grilled or warm protein of
your choice.

Ingredients:
1-1/2 pounds of protein to grill, such as boneless chicken thighs, thin boneless pork chops, a flank steak or slices of halloumi cheese
3 tablespoons extra virgin olive oil, divided
1 tablespoon chili powder, or no-salt spiced grill rub of your choice
Kosher salt
1-1/2 pounds ripe slicer tomatoes, all one color or mixed, thinly sliced
1 ear of fresh, tender corn (white or bicolor works well), husked and kernels cut from cob
1 small red onion or half of a large one, thinly sliced
1 tablespoon fresh oregano leaves (optional, but this really adds flavor)
Freshly ground black pepper
Instructions:
Stir 1/2 teaspoon salt and the chili powder or grill rub. Rub the protein with 2 tablespoons of oil, then sprinkle on the spice mix. Preheat the grill.
On a large platter or flat baking dish, layer the tomato slices, then sprinkle the corn kernels, the red onion slices and the oregano leaves over them. Sprinkle over it 3/4 teaspoon salt. Drizzle the remaining 1 tablespoon olive oil over the vegetables and grind black pepper to taste over the dish.
Grill the protein of choice to desired doneness. When it's cooked through, transfer it to the veggie-covered platter, and let the juices soak in for at least 5 minutes before serving. To serve, scoop up the protein and warm veggies all together with a large serving spoon.
(If you're cooking one large piece of meat, transfer it to a cutting board with a rim and let rest 5 minutes, then slice into serving portions. Put the meat slices and all the drippings on top of the vegetables, then serve.)