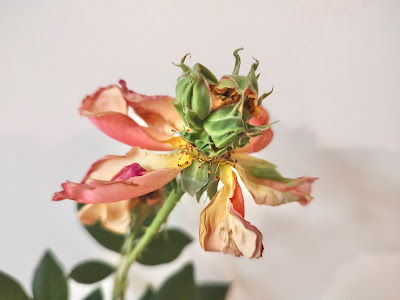 This About Face grandiflora rose is displaying
fasciation in its spent bloom. (Photo: Debbie
Arrington)
They look like something out of "Little Shop of Horrors": Weirdly distorted buds that sprout out of the center of a spent rose. And this summer, more seem to be popping up on rose bushes throughout Sacramento – as well as other plants.
It's another garden oddity likely tied to extreme fluctuations in temperature: Fasciation.
This phenomenon – strange, unexpected growth of terminal buds – is a genetic mutation of a plant's growing tip. It's believed to be triggered by a hormone imbalance that may be caused by outside factors such as roller-coaster temperatures or exposure to herbicides (such as Roundup).
I can't help it; I'm fascinated by fasciation. In roses, it looks like a whole spray of monstrous buds is trying to wiggle out of the center of a bloom – often before the first flower has dropped its petals.
I have one hybrid tea – Perfect Moment – that always seems to display some fasciation in the heat of summer (and it did). But this August, I'm also seeing fasciation on bushes that never showed it before. That includes About Face, a very tall grandiflora; this week, several of its spent blooms sprouted the weird deformed buds.
The roses were not exposed to Roundup or other chemicals; it had to be the heat.
The good news: It's not contagious. Snip off the weird flower and the plant will (fingers crossed) grow a "normal" bud.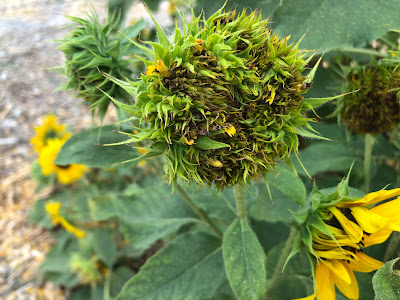 Fasciation also can show up in sunflowers. This was a
bloom that exhibited some weird extra growth. (Photo: Kathy
Morrison)
According to experts, fasciation has been observed in more than 100 species. Some plants pass that trait on through their seeds. It's most commonly seen in strawberries, foxgloves, delphiniums, cactuses, and succulents.
In strawberries, fasciation creates giant double or triple berries. The cockscomb celosia – with flowers that look like rooster heads – are a result of fasciation.
Heirloom tomatoes – particularly those with ugly bottoms – are believed to be another case of fasciation as a desirable trait.
Fasciation also can produce flat, fused stems or tufts of fused growth, often referred to as "witches' broom." Besides heat and herbicides, fasciation may be caused by bacteria, in particular Rhodococcus fascians , say UC master gardeners.
For more on fasciation: http://ipm.ucanr.edu/PMG/GARDEN/FLOWERS/DISEASE/fasciation.html