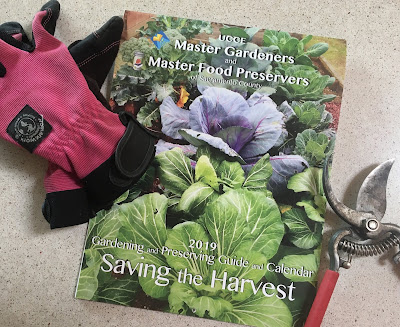 Consider this calendar an essential garden tool.
(Photo: Kathy Morrison)
UCCE Master Gardeners, Master Food Preservers team up for 2019 publication
The 2019 growing season isn't that far away. Before it arrives, you'll want to have in hand the best calendar for Sacramento-area gardeners.
The UCCE Master Gardeners of Sacramento County annually produce a calendar stuffed with growing tips for each month. At $10, it's a bargain, and even more so this year because the Master Gardeners have teamed with the Master Food Preservers to include methods and ideas for preserving your harvest.
The pages for January, for example, talk about choosing and growing citrus, plus harvest tips, and then ideas for saving those gorgeous oranges, Meyer lemons, grapefruit and more as juice, marmalade or candied peel. Recipes are in the back of the calendar for when you feel inspired.
The calendar also features a complete Seasonal Guide to Vegetable Planting for our region. (One tidbit gleaned from that: Hold off on planting the cilantro seedlings until October.) Plus there is information on container and straw-bale gardening, as well as the art of espaliering fruit trees.
Other items cover pollinators and plants that attract them, how to recognize pesky harlequin bugs, and an explanation of mosaic virus.
Every item is referenced to a UCANR publication that can provide more information. It's like having a Master Gardener or Master Food Preserver always at the ready.
The calendars can be purchased now online at
sacmg.ucanr.edu
, as well as at any Master Gardener or Master Food Preserver event. Later in the fall, some retail outlets also will carry it, usually the better nurseries and hardware stores. Proceeds benefit all the MG and MFP events, workshops and classes, which are invaluable local resources.
-- Kathy Morrison