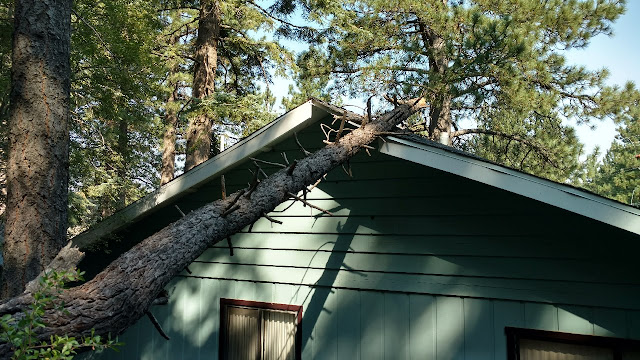 Part of a fallen Jeffrey pine rests where it landed on a cabin roof. The top 20 feet broke off and did further damage.
(Photos: Debbie Arrington)


Bark beetle infestation takes its toll on pines


When a tree falls in the forest, it makes a big thud.
Fortunately in this case, someone was around to hear it -- and call the property owners. The fallen pine had landed on their cabin's roof.
That cabin sits next to our place in the San Bernardino National Forest in Southern California. If the tree had leaned a little more east, it would have smacked our roof instead.
It was a loud and graphic reminder that California's dead trees won't stand forever. That includes city and suburban trees as well as forest inhabitants.
According to the U.S. Forest Service, California has lost an estimated 129 million trees since 2010, due to drought and bark beetles.
In California's pine forests, those two factors go hand in hand. Prolonged drought weakens trees and cuts back on their ability to produce sap. The sap helps protect trees from bark beetles; low sap, more beetles.
Bark beetles, which particularly attack pines, have been munching their way through our state's forests at alarming rates. They'll keep eating and multiplying as long as there are vulnerable trees. And there are many millions more.
These beetles don't limit themselves to wilderness areas; they invade urban forests, too. According to the UC Cooperative Extension, about 200 species of bark beetles are found in California. Species that attack pines are now common in many communities.
These beetles don't attack dead trees; they go after the weak and living. After they do their damage, other insects move in to finish the job.
That's what happened to this particular Jeffrey pine, a skinny 60-foot tree on a steep slope. Its neighboring pines had previously succumbed to bark beetles and been removed. Of its little grove, this pine was the last to go.
This lone pine had stood like a naked totem for a few summers. From the outside, it seemed solid enough. But on this August morning, the bugs finally ate their way through the base. The whole tree broke off at the crown and collapsed, falling over as if sawed to the ground. Although it seemed kind of far from the cabin when standing, it hit the roof with full force. When it smacked the edge, the top 20 feet of the tree broke off, rolling down and causing more damage.
That's what bugs can do.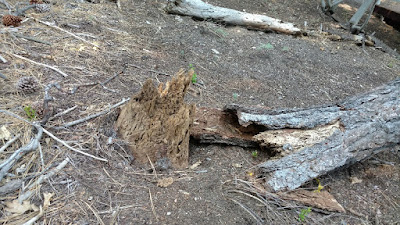 The tree  broke off almost as if it has been sawed.
What they did is part of the natural cycle of life in the forest, breaking down a dead tree so (hopefully) a new healthier tree can take its place. The cabin just got in the way.
California's tree mortality rate hit our urban forests, too. After years of prolonged drought, dead or dying trees can be seen throughout the greater Sacramento area and Sierra foothills.
Forest trees depend on rainfall and deep roots to survive. At home, we can help our trees cope with the challenges of drought and persistent insects.
The best way to head off insect infestations is to keep trees healthy. Give them deep irrigation and proper pruning. Provide mulch and room to grow.
If you have a dead or dying tree, be proactive. Call an arborist or tree removal company and take care of the problem before it falls down, destroys property or, worse, hurts someone.
Because that tree will fall. It's just a matter of time and which way.
For more on bark beetles:
http://ipm.ucanr.edu/PMG/PESTNOTES/pn7421.html
For more on tree health and arborist recommendations:
www.sactree.com