Break out the seeds for fall vegetables, and don't forget to plant California poppies, too. You'll be glad you did.
(Photo: Kathy Morrison)
September starts a season of garden renewal; plant winter vegetables now
A new month and almost a new season: September brings renewed enthusiasm to Sacramento gardeners.
Weather tends to be cooler, particularly at night and early morning. It puts a little more bounce back in plants, and more bounce in gardeners' steps.
Average Sacramento high for September is 87 degrees; overnight lows remain relatively warm with an average of 56 degrees. That range represents a sweet spot for planting fall and winter vegetables as well as flowers for spring. It's also an ideal time for transplanting shrubs and perennials.
Need ideas? Here are some suggestions:
* Before planting, cultivate and add compost to the soil to replenish its nutrients for fall and winter vegetables and flowers.
* Plant onions, lettuce, peas, radishes, turnips, beets, carrots, bok choy, spinach and potatoes directly into the vegetable beds.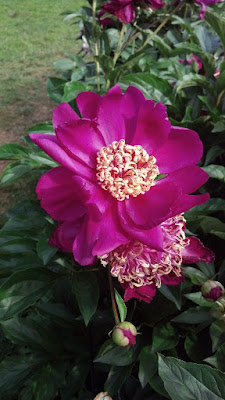 Divide peonies now for more blooms
in the spring. (Photo: Debbie Arrington)
* Transplant cabbage, broccoli, kale, Brussels sprouts and cauliflower as well as lettuce seedlings.
* Sow seeds of California poppies, clarkia and African daisies.
* Transplant cool-weather annuals such as pansies, violas, fairy primroses, calendulas, stocks and snapdragons.
* Divide and replant bulbs, rhizomes and perennials. Bearded irises should be divided every three to five years.
* Dig up and divide daylilies as they complete their bloom cycle.
* Divide and transplant peonies that have become overcrowded. Replant with "eyes" about an inch below the soil surface.