Propagation workshop teaches how to root rose cuttings; take some home, too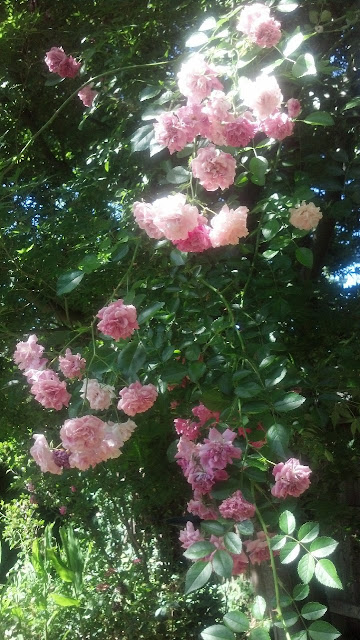 The Dorothy Perkins rose is an early rambler that loves
to
climb. (Photo: Debbie
Arrington)
Have you ever wanted to get cuttings from the Heritage Rose Garden at Sacramento's Historic City Cemetery? Here's your chance -- and you'll learn an important gardening skill, too.

Saturday morning, rose garden volunteers will offer a hands-on propagation workshop. It's a two-hour course in growing roses from cuttings, a basic form of "cloning" varieties. In the case of these rare Victorian-era roses in the cemetery's world famous collection, it's the only way to get another bush.
Participants will learn how to select the best plant material, prepare the cuttings and root them via the terrarium method. Volunteers also will offer advice on how to turn those cuttings into mature healthy bushes ready to be planted in the garden.

Besides gaining all that knowledge, participants get a chance to take and "stick" a few cuttings of their own to bring home.
This special workshop will be held from 10 a.m. to noon Sept. 8 at the cemetery, 1000 Broadway, Sacramento. It's free, but donations are welcome. Proceeds support the rose garden, recognized among the best collections of old garden roses in the world.
Participants should bring their own garden gloves; street parking is available. For more details:
www.cemeteryrose.org
.