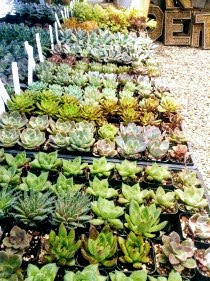 Succulents are a highlight at The Secret Garden.
(Courtesy The Secret Garden)
Elk Grove's destination nursery offers bargains on succulents, fruit trees, bamboos, roses and more
Get inspired for the new season and the garden year ahead at the annual Fall Garden Faire at The Secret Garden in Elk Grove.
Set for
10 a.m. to 5 p.m. Saturday
and
Sunday, Sept. 15
and 16, this event spotlights plants that benefit from fall planting such as perennials and shrubs. Fruit trees, bamboos and roses also will be featured with large discounts (30 percent). Many other plants also will be on sale.
A highlight will be thousands of succulents, along with tips on how to create a low-water landscape, container gardens and more. The Secret Garden has become a destination nursery for succulent lovers with a wide selection of these drought-tolerant favorites.
The Secret Garden gets a jump on Halloween decorating with pumpkins and other fall decorating material. Shopping early for the holidays? Find statuary, fountains and other garden gifts.
UC Cooperative Extension master gardeners will be on hand
from 11 a.m. to 2 p.m.
each day to answer questions, identify mystery plants, solve problems and offer advice on plant selection.
The Secret Garden has had a busy year, expanding its nursery area. Recent renovations upgraded pathways, making them easier to navigate on foot or wheels.
The Secret Garden is located just off Highway 99 at
8450 W. Stockton Blvd., Elk Grove
. For more details:
www.secretgarden-online.com
.
- Debbie Arrington