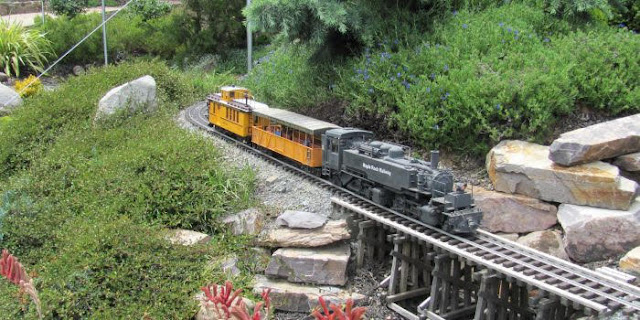 The trains will be running at Maple Rock Gardens on Saturday. (Courtesy Maple Rock Gardens)
Whimsical railway comes to life at famous gardens
When Scott Paris bought Maple Rock Gardens, the unique Penryn property came with one especially whimsical feature: About 1,000 feet of miniature train tracks.
Miniature trains were a hobby of the gardens' original owners, Frank and Ruby Andrews. Besides its famous formal gardens and working farm, Maple Rock Gardens boasts one of the largest garden railroads in Northern California.
The little rails wind through several of the terraced garden "rooms," past forests of bonsai trees, around boulders and over meandering streams. The magic of this Lilliputian railway system really comes to life when trains are running. Saturday, Sept. 15, see them in action during "Train Day at Maple Rock Gardens."
Presented by the Sacramento Valley Garden Railway Society, Train Day will feature live steam engines on the little track as well as its radio-controlled Maple Rock Railway special.
According to the railway society, the current aluminum track layout was built by Earl Martin. "The era is 1930s in California's Gold Country and represents a small narrow gauge railway serving a gold mine, a logging operation, two visually separated small towns and a mountain lodge," the society said in its Maple Rock snapshot.
Paris, owner of High Hand Nursery and Conservatory, made several improvements along the rail line to make viewing better and more comfortable for guests. That included adding 30 tons of rock and more dwarf landscaping. The railway is adjacent to picnic areas and overlooks Maple Rock's massive lavender fields, orchards and farm crops.
Guests are invited to picnic on site as well as tour the rest of Maple Rock Gardens and enjoy live music while train watching. Food and drink will be available for purchase.
Wear comfortable shoes and stroll through the terraced property, considered among the finest private gardens in Northern California.
Train Day is 9 a.m. to 3 p.m. Saturday. Admission is $10; children age 12 and under admitted free. Maple Rock Gardens is located at 100 Clark Tunnel Road, Penryn. Tickets are available online at
www.highhand.com
.