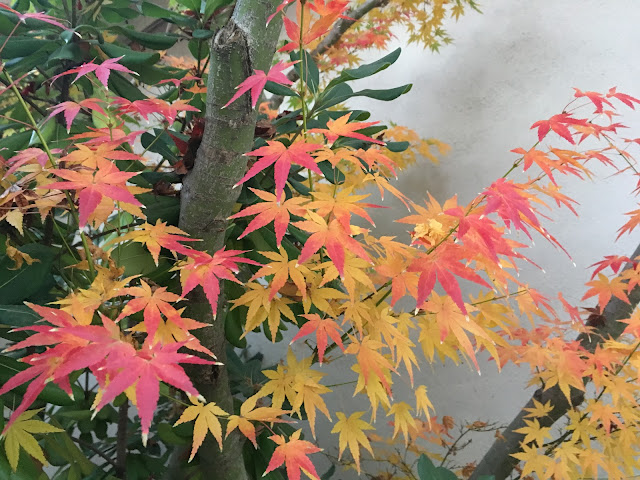 Whenever autumn arrives in your garden, remember to compost the fallen leaves. (Photo: Kathy Morrison)
Compost fall leaves for garden gold
It's almost officially fall. That's when nature really gets into recycling. Why do you think so many trees lose their leaves?
By the look of some birches and Japanese maples, autumn and its annual leaf drop may come early. Deciduous trees are already showing their fall colors.
Follow nature's lead by making the most of those fallen leaves. Turn them into mulch by shredding with a lawn mower. Or just use them as is for a forest-floor look.
Or add them to your compost pile. This "brown" material is essential for garden gold.
Also to do this week:
* Compost annuals and vegetable crops that have finished producing.
* Cultivate and add compost to the soil to replenish its nutrients for fall and winter vegetables and flowers.
* Fertilize deciduous fruit trees. Water deeply before feeding.
* Pick up any fallen fruit. If you live in the Sacramento quarantine area for Oriental fruit fly, either compost discarded fruit on site or double bag it in plastic and dispose of it in the garbage bin, not green waste. (This is a change in previous recommendations.)
* Plant onions, lettuce, peas, radishes, turnips, beets, carrots, bok choy, spinach and potatoes directly into the vegetable beds.
* Transplant cabbage, broccoli, kale, Brussels sprouts and cauliflower as well as lettuce seedlings.
* Divide and replant bulbs, rhizomes and perennials.
* Dig up and divide daylilies as they complete their bloom cycle.