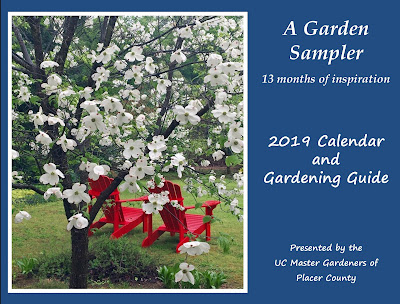 Gardening guide and calendar designed for Placer, El Dorado and Nevada counties
Gardening is different in the Sierra foothills. With higher elevations come subtle changes in weather compared to the Valley; in particular, more rain and colder winter nights. Surrounded by nature and open space, there's a greater threat of wildfire. Deer and other wildlife are more likely to visit backyards.
All those factors and more shape the foothill approach to gardening.
If you're a foothill gardener in need of great, totally local advice, pick up a copy of "Garden Sampler," the 2019 Calendar and Garden Guide created by the UC Cooperative Extension Master Gardeners of Placer County. This excellent gardening tool is now available for $10 at several locations in Placer, El Dorado and Nevada counties as well as at special events this fall.
Or get one directly from the master gardeners at the Placer County office, Building 306 in the DeWitt Center, 11477 E Ave., Auburn (530-889-7385), or at the El Dorado County master gardeners office, 311 Fair Lane, Placerville (530-621-5512).
This 13-month calendar is packed with garden inspiration, focusing on different styles of foothill gardening, according to the master gardeners. "Additionally, there are seasonal tips on how to care for your garden sustainability, as well as timely planting suggestions. Not into growing your own fruits or vegetables? The 'In Season at the Market' section is just for you."
Look for "Garden Sampler" in local nurseries and garden shops as well as the Fall Auburn Home Show, Sept. 28-30, at Auburn's Gold Country Fairgrounds. More details:
http://pcmg.ucanr.org/