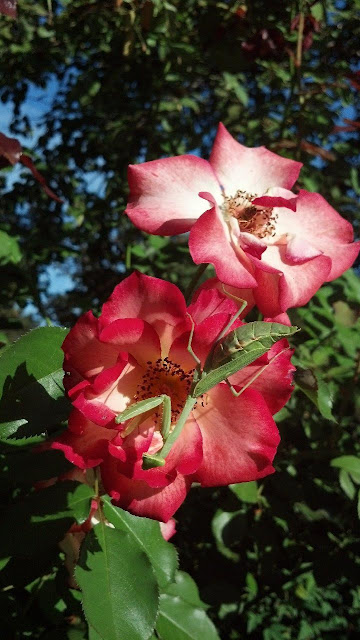 A praying mantis does its work on a Betty Boop rose.
(Photo: Debbie Arrington)
Explore UC Davis Arboretum's west end gardens with an eye for little wildlife
Can you tell a good bug from a bad bug? Which insects are beneficial and which become pests?
Discover who's in your garden during Saturday's "Insect Talk and Tour," designed for bug hunters of all ages.
Exploring the west end gardens of the UC Davis Arboretum, learn about the insect world that inhabits your own backyard, too. Local entomologists will lead the way, pointing out examples in these dynamic gardens. (Insects do a lot of work!)
Learn how insects can help or hurt a garden. With an unpicky appetite, the praying mantis, for example, eats aphids (good), but it also eats beneficial insects (bad). A more efficient beneficial insect, a lady beetle (or ladybug) can devour thousands of aphids in its lifetime.
The 90-minute tour starts at 10 a.m. Saturday, Sept. 22. Meet at the Arboretum Gazebo. The tour is free, but parking is $9. Use Visitor Lot 55. Details:
https://arboretum.ucdavis.edu/insect
or call 530-752-4880.