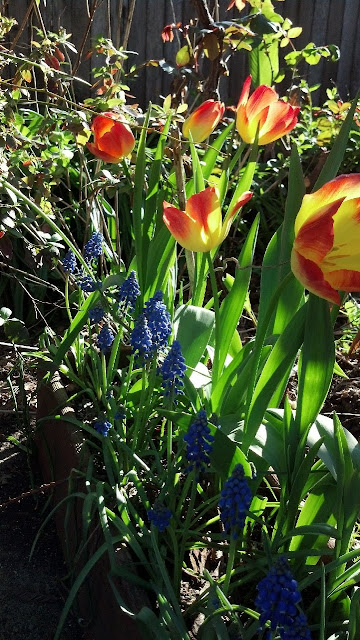 Grape hyacinths are layered under tulips in
Debbie Arrington's garden. (Photo: Debbie Arrington)
Master gardeners' seminar will help you 'Fall into Spring'
What's your bulb IQ? Do you know your daffodils from hyacinths? Dutch iris from Siberian squill?
More important, do you know how to make the most of bulbs in your spring garden? Or how to force them indoors?
Learn all that and more at "Fall into Spring: Fall Planting for Spring Color," a special seminar hosted by the UC Cooperative Extension Master Gardeners of Sacramento County.
Sign up early for this bulb class; pre-registration is required and space is limited.
The course will be held from 9 a.m. to noon Saturday, Oct. 20, at the UC Cooperative Extension office, 4145 Branch Center Road, Sacramento. Cost is $35 per person. Sign up at:
sacmg.ucanr.edu/Special_Events

Bulbs are enjoying a new wave of popularity in California gardens. Most spring-blooming bulbs are drought tolerant and easy care. They're also deer- and rodent-resistant. A small investment can pay off with colorful dividends for years to come.
Guest speaker for this information-packed session will be Bill the Bulb Baron, aka Northern California bulb grower and hybridizer William Welch. He'll share his tips for success in Sacramento's climate and soils.
Other presentations include how to layer bulbs for dramatic impact (and more weeks of flowers) as well as how to force bulbs in containers for winter blooms.
In addition, bulbs and forcing kits will be offered for sale at the seminar.
Questions? For more information: UC Cooperative Extension, (916) 875-6913 or
sacmg.ucanr.edu
.