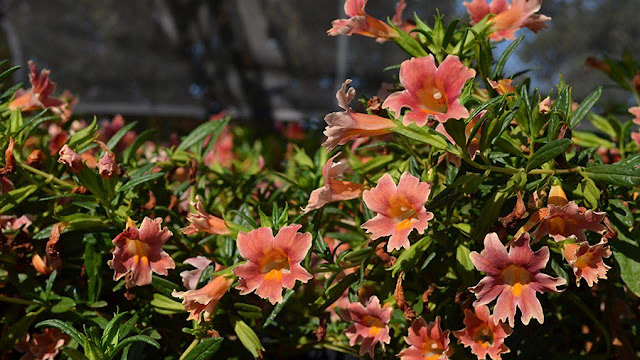 The Jelly Bean monkeyflower is a hybrid California native adapted
for the home landscape. Monkeyflowers and other natives will be featured
at the arboretum sale. (Photo courtesy UC Davis Arboretum)
UC Davis Arboretum hosts first fall sale with 27,000 (mostly) low-water plants
Looking for Arboretum All-Stars? Find them in abundance -- along with many other great plants -- at the UC Davis Arboretum's fall plant sales.
The first of three fall sales will be held Saturday, Sept. 29, at the Arboretum Teaching Nursery on Garrod Drive on the UC Davis campus.
The arboretum's one-acre nursery is overflowing with almost 27,000 plants in about 670 varieties, many of them unavailable anywhere else in the greater Sacramento area. That includes the Arboretum All-Stars, the nursery's collection of bullet-proof and beautiful low-water plants.

Also featured this fall is a gigantic selection of California natives as well as recommended plants from the Arboretum's own gardens.

Along with the plants comes expert advice from Friends of the Arboretum. Volunteers will be on hand to help with plant selection.
Friends of the Arboretum and Davis Botanical Society members get first crack from 9 to 11 a.m. (plus a 10 percent discount). Join the Friends at the door and get early entry plus a $10 coupon.
Public hours will be 11 a.m. to 1 p.m. Saturday. Wear sensible shoes for gravel paths.