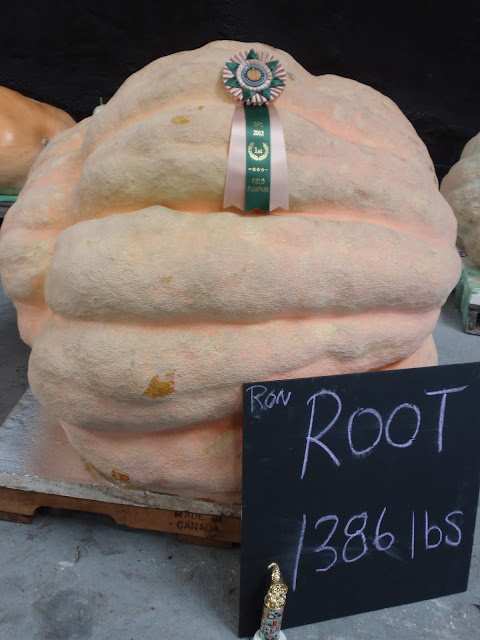 This is one of Ron Root's mega pumpkins,  displayed at the Heirloom Expo in 2012.
Root, of Citrus Heights, won the world title in 2010. (Photo: Debbie Arrington)
Countdown is on for weigh-ins at Elk Grove, Half Moon Bay contests
It's giant pumpkin time! See these mammoths of the gourd world compete in two major Northern California contests.
Of course, it's the farmers and backyard gardeners who do all the sweating, transporting and lifting these back-busters into place. The pumpkins just have to sit there and look plump.

First up is the Elk Grove Giant Pumpkin Festival. Weigh-in starts at 9 a.m. Saturday, Oct. 6, at Elk Grove Park. Walk-up registration ($10) is open from 7 to 9 a.m.
Besides gigantic pumpkins, the Elk Grove fest also has categories for biggest zucchini, sunflower, other squash, watermelon, cantaloupe and tomato as well as longest gourd and tallest cornstalk. (Go to
www.yourcsd.com
and follow the Elk Grove Giant Pumpkin Festival links for details.)

Last year's big winner traveled cross country for the $7 a pound prize money. Josiah Brandt of Wisconsin won $14,665 for his 2,095-pound champion pumpkin.

Celebrating all things pumpkin, the Elk Grove festival is open from 10 a.m. to 5 p.m Saturday and Sunday, Oct. 6 and 7. Admission is free, but parking is $10. Elk Grove Park is located at 9950 Elk Grove Florin Rd, Elk Grove.

On Monday, Oct. 8, comes the big daddy of giant pumpkin contests -- the 45th annual Safeway World Championship Pumpkin Weigh-Off in Half Moon Bay.
Starting at 7 a.m. Monday, giant pumpkins from throughout the country will tip the scale for top honors and $7 a pound plus a chance at a $30,000 bonus for a world record. Joel Holland, a retired Washington firefighter, set an American record with last year's winner, which weighed in at 2,363 pounds.
Sacramento-area pumpkins have had success at the world championships, too. Citrus Heights' Ron Root won the 2010 world crown at Half Moon Bay with a 1,535-pound specimen.