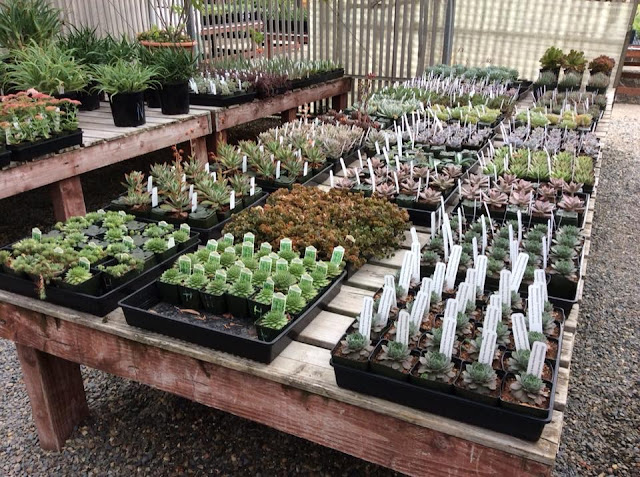 Student-propagated plants will be on sale at American River College. (Photo courtesy ARC Horticulture Dept.)


Check out this weekend's sales (and our calendar, too)
Are you still looking to fill in spots in your fall garden? With three big plant sales in the area this weekend, there's bound to be one near you:
* American River College.   This one-day sale Saturday, Oct. 6, runs from 8 a.m. to 2 p.m. All proceeds benefit the ARC Horticulture Program. The plants are student-grown, and include succulents, seasonal vegetables, houseplants, landscape plants, natives, and perennials. Credit cards accepted. The sale will be held in the Technical Education area, on the northeast corner of campus, behind Automotive; Parking Lot A off Myrtle Avenue, Sacramento. Information:
www.arc.losrios.edu/horticulture
* El Dorado Chapter, California Native Plant Society. Natives, of course, are the focus of this one-day sale, 9 a.m. to noon Saturday, Oct. 6. Most plants will be in 1-gallon and starter-pot sizes, with a few 5-gallon plants available, mainly trees and shrubs. Standard prices are $4 for pots, $11 for 1-gallon, $30 for 5-gallon. Cash, checks and credit accepted. Held in front of Building C, the middle parking lot, 2850 Fairlane Court, Placerville. A full plant list can be found at
eldoradocnps.org
.
* Shepard Garden and Arts Center. Recapping our post from earlier in the week, this big two-day sale features many of the garden, art and other organizations that call the McKinley Park center home. It runs from 10 a.m. to 4 p.m. Saturday and Sunday, Oct. 6-7. Find not just many kinds of plants but also books, supplies, gift items, bulbs and calendars. Admission and parking are free. 3330 McKinley Blvd., Sacramento. Information:
www.sgaac.org
.
If you want to stay on top of gardening events, including plant sales, club meetings and UCCE Master Gardener presentations, regularly check the Sacramento Digs Gardening calendar page
here
. And send us information on your events, too, to include.