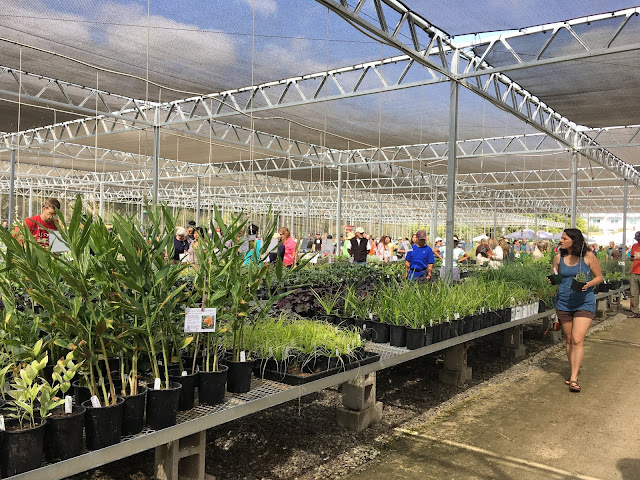 The UC Davis Arboretum nursery's plant sales draw gardeners from all over. (Photo: Kathy Morrison)
UC Davis Arboretum opens Saturday's entire sale to public
Come one, come all, come early. From 9 a.m. to 1 p.m. Saturday, the UC Davis Arboretum opens its entire fall plant sale to the public. Instead of only two hours, the public will have twice as long to shop.

Many gardeners will welcome that extra time. It isn't easy choosing; there are so many Arboretum All-Stars and other plants perfect for the Sacramento region. This fall, the Arboretum Teaching Nursery's selection started with almost 27,000 plants in about 670 varieties.

Past sales reserved special hours for Friends of the Arboretum; members still get a 10 percent discount. The Friends also will be on hand to offer plant advice and recommendations.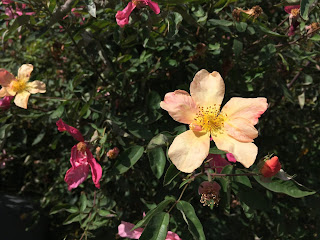 This rosa mutabilis is planted in a bed at the nursery, but
others are offered for sale.

Every variety in this sale was tested in local gardens and landscapes. The nursery's stock also is locally grown, an important plus. Unlike nursery stock brought in from coastal growers, these plants don't have to adjust to our climate.

This sale allows more time for the public to browse the one-acre nursery, located on Garrod Drive on the UC Davis campus. It's also a great chance to see the nursery's demonstration gardens, featuring many of the Arboretum favorites. Admission is free.

Looking for fall color with less water? Perennials and shrubs blooming now should offer repeat performances in your garden.
For gardeners searching for specific varieties, the nursery updated its inventory list, available here:
https://bit.ly/2A52dDG
Only one more sale remains this year after this event. The nursery hosts its clearance sale Nov. 3.
For full details:
https://arboretum.ucdavis.edu/plant-sales
And don't forget to check out the Sacramento Digs Gardening calendar. Click
here
to find out about the many gardening events in the Sacramento region.