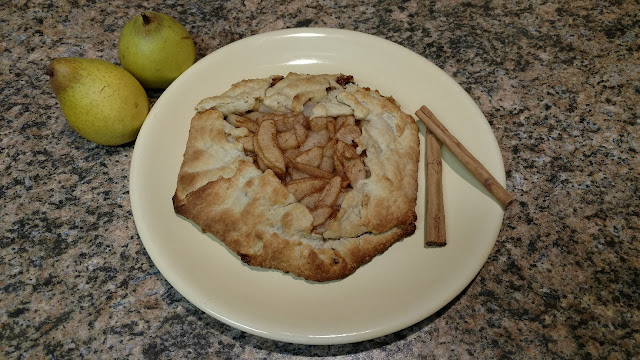 Yolo County-grown Yali pears make this spiced Asian pear tart a Yolo Yali tart.
(Photos: Debbie Arrington)
Recipe: This Yolo Yali dessert is perfect for October harvest
Asian pears add a sweet, juicy and crisp note to October. Even baked, slices retain a little firmness around the edges, adding texture and interest to fall favorites.
In early autumn, this local fruit rolls into farmers markets and ripens in backyards. Native to Japan and China, Asian pears fully ripen on the tree and are ready to eat when harvested. (European pears such as the familiar Bartlett or Bosc need time for curing after harvest to achieve their buttery texture and flavor.)
Varieties of this fruit (such as the brown-skinned Hosui) often look more like apples than pears. According to Produce Express, Hosui is the most common Asian pear in California and is known for its brandy aroma.
Yali (which means "duck pear" in its native China) looks just like a large pear: Green skinned and proper shaped. It just never gets soft.
Due to their crispness, Asian pears usually are used fresh, eaten out of hand or in salads. After cutting, slices brown rapidly and need some citrus, wine or other acid to keep their pure white or cream color. (For example: Dip slices in water with 1 tablespoon lemon juice.)
Asian pears may sub for apples or European pears in cooked recipes, but their unique texture requires some adjustments. They are super juicy and slices tend to stay firm. That means overflowing pies that never quite get tender.
Some solutions:
* Make the slices thin, about 1/8 inch. They retain some firmness but also cook through.
* Add cornstarch or tapioca to the thicken pie filling or cobblers.
* Include in the bottom of the crust or pan something to absorb excess juice.
* Allow for overflow; use a rimmed pan and foil underneath.
* If subbing for apples, increase cooking time about 5 to 10 minutes; cover crusts to prevent overbrowning.
* Pre-cook filling on the stovetop before adding to a tart or pie crust. That allows plenty of time for the Asian pear slices to cook down.
This tart used thinly sliced Yali pears from Yolo County, which makes this a Yolo Yali tart, but any Asian pear will work. So will apples and other pears, too.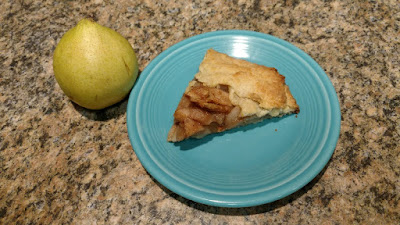 Asian pears are juicy but remain firmer than regular
Spiced Asian pear tart
Makes 6 servings
Ingredients:
Crust:
1 cup flour
1/2 teaspoon salt
2 tablespoons sugar
8 tablespoons (1 cube) butter
1 egg yolk
3 tablespoons ice water
Filling:
5 Asian pears, cored, peeled and sliced 1/8-inch thick (about 3-1/2 cups)
1 tablespoon lemon juice
2 tablespoons cornstarch
1/4 cup brown sugar
1/4 cup white sugar
1 teaspoon ginger
1/2 teaspoon cinnamon
1/2 teaspoon nutmeg
1/2 cup almonds
2 tablespoons sugar
Instructions:
Preheat oven to 425 degrees F. In a food processor, combine flour, salt and 2 tablespoons sugar. Pulse to mix. Add butter, cut in 8 pieces. Pulse to blend (about 10 seconds). Transfer to bowl. Beat egg yolk with water; add to flour-butter mixture, sprinkling a little extra ice water if needed. Dough will be sticky.
Place dough on plastic wrap and form a small disc. Wrap dough in plastic and freeze for at least 10 minutes.
Meanwhile, make the filling: Slice pears. Add lemon juice to a bowl of cold water; submerge the slices to prevent browning.
In a large bowl, mix cornstarch, brown and white sugar and spices. Drain the pear slices and toss with the dry ingredients.
In a food processor, grind the almonds. Add 2 tablespoons sugar and pulse.
Flour parchment paper or more plastic wrap. Unwrap chilled dough and roll between sheets of floured parchment or plastic wrap. Put dough back in freezer if it gets too sticky. Roll out a disc about 11 to 12 inches across; it need not be perfectly round.
Place the crust directly on a rimmed baking sheet, big enough to fit the tart.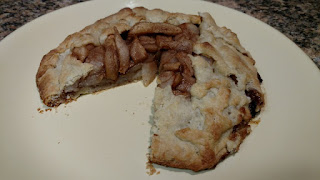 Cornstarch and a layer of ground almonds help keep this
Asian pear tart from becoming too runny.
On the crust, sprinkle the ground almond mixture, forming an 8-inch circle in the middle. Spoon the pears onto this circle of almonds, discarding excess juice. With floured fingers, fold the edges of the crust over the filling, tucking and overlapping as you go. The crust will not cover the top.
Put tart in oven and bake for 35-40 minutes at 425 degrees. Cover with foil in final minutes to prevent overbrowning of edges. Filling will be bubbly and top golden brown.
Remove from oven and let cool a few minutes. Carefully remove the tart from the baking sheet to a serving dish. (A large pancake or cookie turner works well for this.)
Serve warm; whipped cream or ice cream optional.