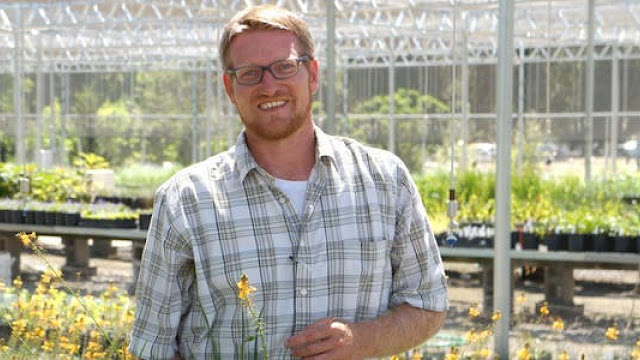 A winter garden prep class will be taught by Taylor Lewis, nursery manager at the UC Davis Arboretum. (Photo courtesy UC Davis Arboretum)
Learn and shop at the UC Davis Arboretum Teaching Nursery
Taylor Lewis knows how to make things grow. As nursery manager of the UC Davis Arboretum Teaching Nursery, he grows tens of thousands of healthy plants for use both in the arboretum's gardens as well as for sale to the public.

Besides the nursery, Lewis is an avid organic gardener, adept at growing all sorts of vegetables.
What's the secret to garden success? Like anything, it's preparation.

On Tuesday, Oct. 30, Lewis will lead a special class, "Garden Prep for Winter." Held at the Arboretum Teaching Nursery, the 10 a.m. session starts with 90 minutes of tips and expert advice from Lewis on how to put some parts of the garden to sleep for winter cold while adding winter flair to other areas.

Late October and November are excellent for transplanting many things in our area. There's also still time to put in a winter vegetable garden.

After discussion and Lewis' suggestions, class attendees enjoy a private sale at the nursery, which specializes in low-water flowering plants that grow terrifically in the Sacramento area. With no crowd, it's a great opportunity to shop for perennials, shrubs, trees, ground covers and California natives including many Arboretum All-Stars.

There's still a lot to choose from; Lewis grew about 670 varieties this season.

The class is $18 ($12 for Friends of the Arboretum); $28 ($22 for Friends) including reserved parking in front of the nursery, located on Garrod Drive on the UC Davis campus. Reserved parking must be purchased at least three days in advance.