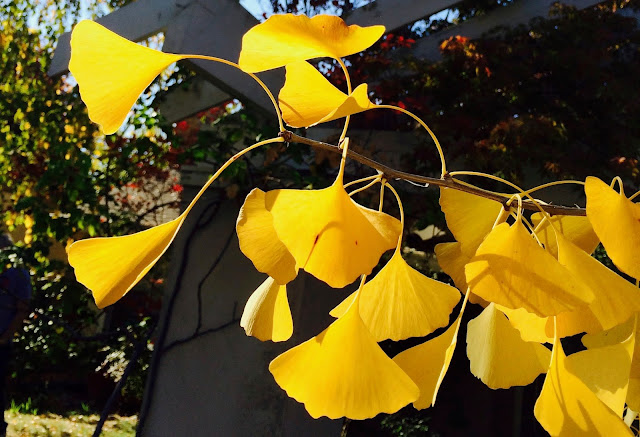 Gorgeous gold leaves can have a second life as garden gold, also known as compost. (Photo: Kathy Morrison)
Master gardeners offer free composting classes
Got leaves? Make garden gold.

Think of all that fallen foliage as an autumn harvest of compost ingredients.

Brown leaves alone aren't enough to cook up nutrient-rich compost, but part of the overall mix. When started in November, compost will be ready for spring planting.

Want to learn how to turn your yard and kitchen waste into natural fertilizer? Take a composting class from local master gardeners.
* On Saturday, Nov. 10, the UC Cooperative Extension master gardeners of Sacramento County will present composting basics including how to set up various bins and tips for success. This free one-hour course starts at 10 a.m. at Sierra2 Center, 2791 24th St., Sacramento. Pre-registration is required via email to
katie@sierra2.org
. Details:
sacmg.ucanr.edu
* For gardeners in Yolo County, the UCCE Yolo County master gardeners will present a free composting workshop at 10:15 a.m. Saturday, Nov. 10, at the Esparto Regional Library, 17065 Yolo Ave., Esparto. Details: http:
yolomg.ucanr.edu
* Interested in worm composting? At 10 a.m. Saturdyam Nov. 17, the UCCE Yolo County master gardeners and EnviroWoodland present a free two-hour composting workshop that tackles both backyard and worm composting. It will be at the Woodland Community College garden, Building 400, 2300 E. Gibson Road, Woodland. Free worms will be available. Woodland residents who sign up in advance can take home a free worm bin, too. Details:
yolomg.ucanr.edu