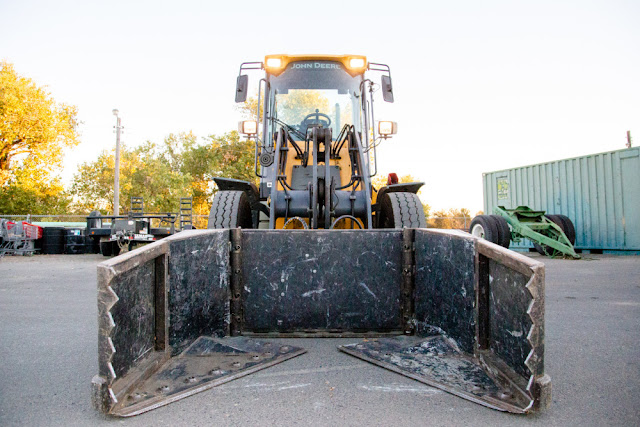 The Claw is coming for your leaves! Check the calendar to find out when. (Photo courtesy City of Sacramento)
Leaf Season officially begins with collection calendar
I love The Claw!

When I heard that metal-against-concrete scrape, I knew Sacramento Leaf Season had officially begun. As someone who does a lot of pruning and has a lot of leaves, I really appreciate The Claw's service. Now I know when to expect its visit.

Through Jan. 27, 2019, the City of Sacramento rolls out its leaf-collecting brigade of John Deere scoopers. This machine, affectionately nicknamed The Claw, grabs big piles of leaves, prunings and other garden waste that tends to overwhelm the City of Trees in late fall and winter.

According to the City of Sacramento, 10 to 15 crews will cruise city streets with Claws and rear-loading trucks. By the end of the season, they expect to pick up more than 54 million pounds of green waste.
Crews work six-day weeks including holidays and rainy weather. On average, it takes the leaf brigade 10 days to leaf sweep the city. Wind or storms can stretch that cycle to two weeks or more.
The city is trying to take the guesswork out of when The Claw arrives with a Collection Calendar. Find it at:
https://bit.ly/2DtCXd7

Residents can plan ahead for when to put out piles for The Claw. The city suggests filling green waste containers for weekly pick-up before piling up material in the street; that makes the whole process go faster.
Some tips on leaf piles:
* Piles should be no more than 5 cubic yards. That's 4 by 4 by 9 feet, or the size of a small sports car.
* Limbs, branches and canes should be no more than 3 feet long and under 4 inches in diameter.
* Place pile at least 6 feet away from any obstructions (such as parked cars). Allow space between the pile and the curb to allow water to flow to storm drains. Try not to block bike lanes.
* No plastic bags; it's green waste only.
* No pet waste. (Put that in the garbage.)
For more tips:
www.cityofsacramento.org
.