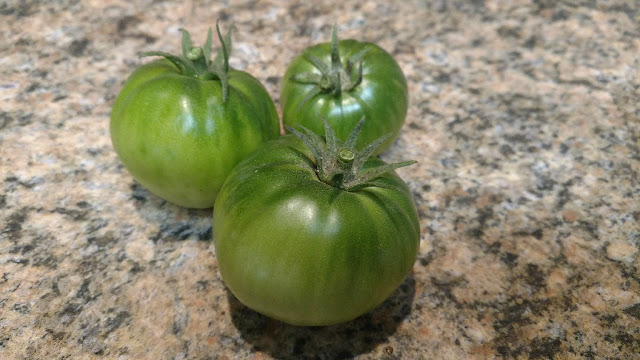 The weather and smoke together are shutting down
Sacramento gardeners'
tomato vines. Time to p
ick or compost your unripened tomatoes. (Photos: Debbie Arrington)
Time to pull vines; smoke and colder weather halt tomato production
Time to give up on Christmas tomatoes.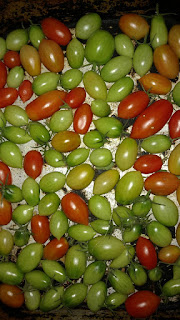 Spread in a single layer, green
tomatoes will ripen off the vine.



Heavy smoke and changing weather patterns plunged temperatures from 10 to 15 degrees above normal in the Sacramento region just a week ago to five degrees below normal. In addition, overnight temperatures are dipping into the very low 40s.

So, all those tomato vines that pushed out new blooms just wasted their energy. Wildfire smoke will keep bees inactive, so those yellow flowers won't get pollinated. And the temperatures have cooled off so much, the fruit won't set or develop.

So, if you haven't already, pull the vines.

What to do with those green tomatoes? If they've grown enough to develop seed sacs inside, they likely will ripen off the vine. Place in a single layer in a warm dry place (such as the kitchen counter). They'll take a few weeks to turn fully red. Maybe, there will be Christmas tomatoes after all.
(Don't want to wait? Kathy will have a recipe in Sunday's post that uses green tomatoes.)

That wildfire smoke makes it unhealthful to be outdoors. But when and if the smoke clears, here are some tasks that may need attention:

* To help prevent leaf curl, apply a copper fungicide spray to peach and nectarine trees after they lose their leaves. Leaf curl, which shows up in the spring, is caused by a fungus that winters as spores on the limbs and around the tree in fallen leaves. Sprays are most effective now.

* Give your azaleas, gardenias and camellias a boost with chelated iron.

* Keep planting bulbs to spread out your spring bloom. Some possible suggestions: daffodils, crocuses, hyacinths, tulips, anemones and scillas.

* This is also a good time to seed wildflowers and plant such spring bloomers as sweet peas, sweet alyssum and bachelor buttons.

* Now is the best time to plant most trees and shrubs. This gives them plenty of time for root development before spring growth. They also benefit from fall and winter rains.

* Set out cool-weather annuals such as pansies and snapdragons.

* Lettuce, cabbage and broccoli also can be planted now. Plant garlic and onions.