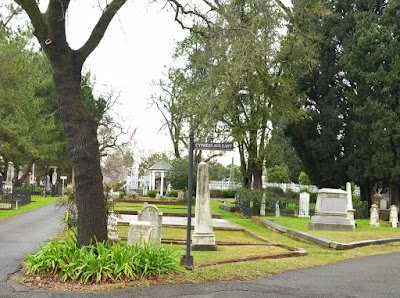 The Historic City Cemetery tours will resume in the new year.
(Photo courtesy Old City Cemetery Committee)
World War II, rose garden tours won't be rescheduled
Wildfire smog continues to affect outdoor activities in Sacramento. That includes this weekend's public events at the Historic City Cemetery, bringing an early end to its tour season.
After one postponement, Sunday's Veterans of World War II commemoration – originally scheduled for Veterans Day – as well as Saturday's popular "Fall Color in the Rose Garden" tour have been canceled.
According to the Sacramento Region air quality districts, Thursday's particulate matter in Sacramento measured 314 on the Air Quality Index; that's hazardous to everyone. Friday's forecast was for 195, still in the unhealthy range, although many in the city woke up to continued hazardous particulate levels.
"Due to the ongoing bad air quality, all tours scheduled for this weekend at the Historic City Cemetery have been canceled," according to a Friday morning statement from the cemetery's tour committee. "These were the last scheduled tours for 2018. We'll be back in 2019 with more tours and adventures in the Cemetery.
"Again, we're sorry, but we are sure you understand," the committee added. "Thank you for all of your support!"
When the smoke clears, visitors are welcome to take self-guided tours of the cemetery and its gardens. Located at 1000 Broadway, the cemetery is open free to the public from 7 a.m. to 7 p.m. daily.
Details:
www.historicoldcitycemetery.org