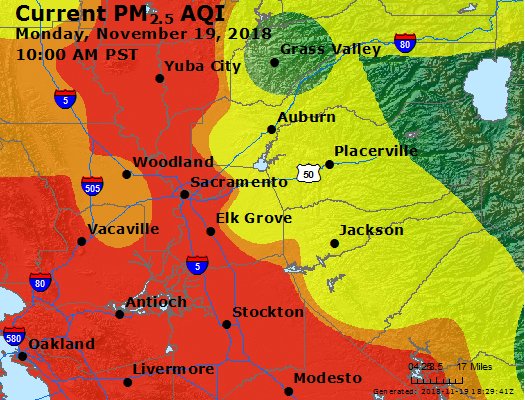 We'll all be relieved when the air quality map no longer looks this red. At least there's no purple on it today. (Image courtesy sparetheair.com)

Storms will help wash away smoke, ash
Help is on the way -- both for firefighters and gardeners.

According to the National Weather Service, rain will start arriving in Northern California late Tuesday night. Sacramento has a 90 percent chance of rain Wednesday, off and on showers Thanksgiving Thursday, then another good soaking on Friday.

Bad for travel, great for air quality. This welcome rain, the first real precipitation of our current season, will wipe away most of the lingering wildfire smoke, ending almost two weeks of unhealthful air. It also (hopefully) will help extinguish the remains of the Camp Fire, the worst in state history.

These storms end a significant dry spell. So far this rain season (which started Oct. 1), Sacramento has received only 0.04 inches; normal is about 3 inches for October and November. Sacramento is expected to get at least a half inch before a sunny Saturday and Sunday.

In anticipation of this storm, turn off the sprinklers this week. Then, plan to get busy next weekend. Soft ground is great for transplanting.

Meanwhile, avoid the bad air outdoors. According to the Sacramento region air quality districts, Sacramento reached 189 Sunday on the Air Quality Index, with 179 predicted Monday. That's unhealthful for outdoor activity. Rain will bring those numbers way down, at least into the moderate range (which is still unhealthful for sensitive individuals).

What is in that bad air? According to SparetheAir.com, Fine Particulate Matter - known as PM2.5 -- is "a complex mixture that may contain soot, smoke, metals, nitrates, sulfates, dust, water and tire rubber." The AQI measures the particulate level at five sites in Sacramento County plus several other stations in the region. Sacramento's measurement is made at 13th and T streets downtown.

When is the air worse? Usually late at night. According to the National Weather Service, overnight inversion traps pollutants close to the ground. All that smoky air acts like fog, then gradually lifts after dawn.
Need to get outside? Spare the Air offers hourly snapshots of air quality and other useful information. Find it at :
www.sparetheair.com
.