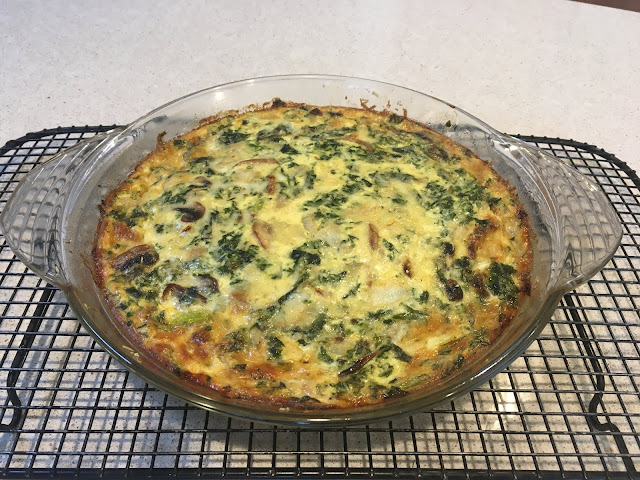 Quiche doesn't need a crust to be a delicious dish for brunch or supper. (Photos: Kathy Morrison)
Recipe: As a bonus, this savory pie is a great use of leftovers
The Thanksgiving hubbub has died down, but my refrigerator is still packed with leftovers, even after sending plenty home with family members. Turkey and stuffing and cranberry sauce, sure, but also those supporting cast members, items I don't usually have: whole milk, specialty cheeses, and the rest of the mixed winter greens that replaced the recalled lettuce in Wednesday night's salad.
Looking at this collection, I decided to bake a quiche. But I couldn't face making another pie crust, not after doing three earlier in the week. So here we have crustless quiche, a savory, cheesy custard packed with veggies. (Leftover ham or bacon or salami would also work in this creation.) The turkey/stuffing/cranberry collection will have to wait for later inspiration.
Note: This is a great way to use thinned-out greens from your own garden, if you have winter veggies planted from seed. If you don't have the greens here handy, from the farmers market or the supermarket, search out a bag of Euro Greens or a container of Super Greens (not lettuce) in the salad section. Fresh, clean spinach leaves also will work, as will a 10-ounce bag of frozen spinach.
Crustless quiche with mushrooms and winter greens
Serves 6-8
Ingredients
:
Butter for pan
8 cups (about 6 ounces) clean, stemmed and torn mixed greens, such as turnip tops, beet greens, kale, mustard greens, collards, chard and/or spinach
Jar of sun-dried tomatoes packed in oil (only part of jar will be used)
1/2 cup chopped onion
4 mushrooms, stemmed and sliced, about 1 cup
4 large eggs
1 1/4 cups whole milk, half and half, or a combination
1/4 teaspoon grated nutmeg
Freshly ground black pepper
2 cups shredded cheese (I used a combination of shredded Monterey jack, bits of leftover garlic jack, and some diced brie without the rind. Gruyere, Swiss or white Cheddar cheese also would work.)
3 tablespoons grated Parmesan cheese, divided
Instructions:
Lightly butter a 9- to 10-inch deep-dish pie pan or a 9-inch square baking pan. Preheat oven to 350 degrees.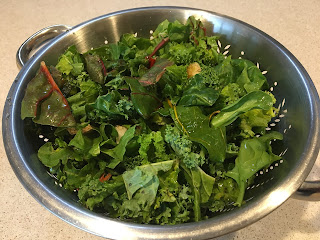 Mixed winter greens, ready to rinse.
Place the greens in a colander. Rinse with water, drain, and place the greens in a microwave-safe bowl or lidded container. (If using a bowl, cover it with plastic wrap.) Microwave the greens on high for 8 minutes, stopping the cooking to stir the greens once or twice.
Drain the cooked greens in the colander, pressing down with a large spoon to release as much liquid as possible. When greens are cool enough to handle, remove them to a cutting board and chop a bit more. Pat dry with a paper towel if they're still fairly wet.
While greens are cooking, drain 1 1/2 teaspoons of oil from the jar of dried tomatoes into a large skillet. Remove about 4 of the dried tomato pieces from the jar to a cutting board, pat some of the oil off them with a paper towel, and slice into 1/4-inch pieces. Set tomatoes aside for the moment.
Place the skillet over medium-high heat and cook the chopped onion and sliced mushrooms 7 minutes, or until much of their liquid has been released, stirring frequently. Stir the sliced dried tomatoes into the mixture for the last minute or so of cooking.
Crack the 4 eggs into a large measuring cup (a 4-cup measure is ideal) and lightly beat them. Add enough of the milk or half and half to make 2 cups liquid. Stir in the nutmeg and several grinds of black pepper to taste.
In a large bowl, thoroughly combine the egg/milk mixture, the greens, the onions and mushrooms, and the shredded cheese.  Stir in 2 tablespoons of the Parmesan.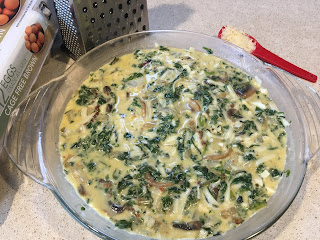 The quiche is ready to be topped with Parmesan before baking.
Pour the mixture into the prepared pan. Smooth the top, and sprinkle on the remaining 1 tablespoon Parmesan.
Bake on a middle rack of the oven for 40-45 minutes, until the edges are golden brown and a knife inserted in the middle comes out clean.
Remove quiche to a cooling rack and allow to cool for 10 minutes before cutting and serving.
Meat variation: Stir 1 cup diced ham or 1/2 cup cooked crumbled bacon or diced salami into the bowl with the other ingredients before pouring them into the pie pan. If desired, the mushrooms can be left out of this version.