Annual Holiday Celebration dedicated to Camp Fire victims
This annual party has taken on added meaning.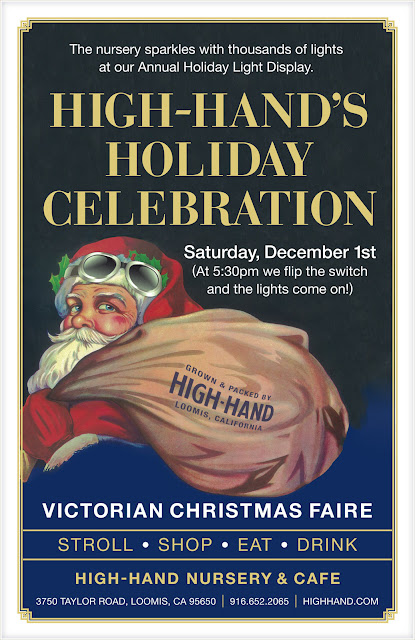 Saturday, High-Hand Nursery & Cafe in Loomis hosts its free Holiday Celebration, a daylong extravaganza featuring a Victorian Christmas Faire and culminating in a 5:30 p.m. lighting ceremony that illuminates the large complex with thousands of lights.

From 10 a.m to 8 p.m., patrons can eat, drink, shop and be merry in a festive atmosphere in High-Hand's century-old fruit packing shed. At the same time, they'll be helping the victims of the devastating Camp Fire that leveled the town of Paradise.
"This year's Christmas tree lighting this Saturday, December 1 at High-Hand Nursery is dedicated to the victims and souls of those lost in the fires," owner Scott Paris wrote in his online newsletter. "I've seen their faces. It's so unimaginable."

Since news of the Camp Fire's devastation broke, Paris has been working hard to help. Through his nursery and its website, he coordinated donation efforts, then made several round trips to Chico to deliver the goods.

Visitors also can dine at the High-Hand Cafe this Saturday evening

from 5:30 t
o 8:30 p.m. Reservations are recommended.
(Photo courtesy High-Hand.)
His first call for donations Nov. 13 brought in more than $6,000, with much more since.

At the holiday party, donations will be accepted at a "Placer Cares: Donation Station for Butte County Camp Fire Victims." Among the items needed: Gifts cards for food and gas; paper plates, cups and plastic utensils; blankets; new underwear and socks; tents and sleeping bags.

Any cash donations will be converted into gift cards for the victims, Paris said.

"I promise you I will personally see that these funds are distributed straight into the artery of those in need," he wrote. "I cannot thank you enough for trusting us and allowing us to help those directly affected."

The whole experience has been overwhelming and life changing, Paris added.

"I have stopped complaining about things," he said. "My perspective has completely changed. We are blessed."
High-Hand Nursery is located at 3750 Taylor Road, Loomis. Details:
www.highhand.com
.