As one garden year ends, another begins. That means it's time to pick up one of the most useful tools for garden success: A local master gardener calendar.
We're lucky to have such a knowledgeable resource available, with local experience and research-backed recommendations. And they put that information right at our fingertips – or on our walls.
Considering this is also Christmas week, these 2019 calendars make great holiday gifts for both veteran and beginning gardeners.
Local master gardener calendars are available for Sacramento, Placer, El Dorado and Nevada counties; the latter three are part of Placer's foothills edition.
The 2019 Sacramento County version has tips that are good anywhere in California.
"Saving the Harvest" is a collaboration of UC Cooperative Extension Master Gardeners and Master Food Preservers. It's a 2019 calendar, gardening guide and preserving guide, bargain priced at $10. Learn how to dry persimmons, make jam, put up tomatoes and other skills, backed by University of California research.
"New this year, we teamed up with the UCCE Master Food Preservers of Sacramento County to bring you science-based tips and recipes for preserving your harvest," said the master gardeners in their online introduction.
Plus there are plenty of gardening tips for small spaces, attracting pollinators, dealing with hot summer weather and more. Reminders cue garden chores as well as offer planting information.
It's available online:
http://sacmg.ucanr.edu/
. Several nurseries also offer the Sacramento County master gardener calendar/guide including: Emigh Ace Hardware, The Plant Foundry, Talini's Nursery, Fair Oaks Boulevard Nursery (all Sacramento), POW Nursery in Wilton, The Secret Garden in Elk Grove and Green Acres Nursery and Garden Supply locations in Sacramento, Elk Grove and Folsom. (Prices may vary.)
Created by the Placer County master gardeners, "A Garden Sampler: 13 months of Inspiration" features advise tailored to Sierra foothill gardeners who face different growing conditions than their valley counterparts, such as more frost and wildlife. It's another bargain at $10.
"It fits for both the experienced gardener and the wanna-be gardener," said Placer County master gardener Kelly Warman. "It is a gardening guide that is put on a calendar, so you know what to do when for all your gardening/landscaping activities. It also has informative monthly articles on different types of gardens, monthly what to plan, monthly what is available at the farmers market."
And who to call: Master Gardener Hotline numbers for Placer, El Dorado and Nevada counties.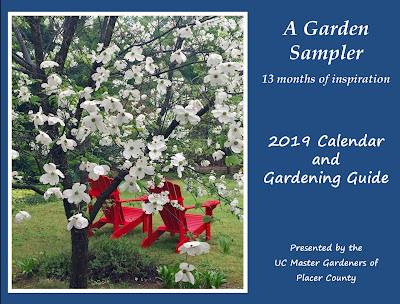 The Placer County edition is available at several foothill nurseries, hardware stores and gift shops in Placer, Nevada and El Dorado counties. That includes Peaceful Valley Farm & Garden Supply in Grass Valley, Eisley Nursery in Auburn, High Hand Nursery in Loomis and Green Acres in Rocklin and Roseville. It's also available online at
http://pcmg.ucanr.org/
. (You'll find the full vendor list via that link, too; prices may vary.)
Or drop by the Placer County master gardener office at the DeWitt Center, 11477 E Ave., Building 306, Auburn. Hours are 8 a.m. to 5 p.m. weekdays; phone 530-889-7385.
The foothills-friendly calendar also is
available at the El Dorado County master gardener office, 311 Fair Lane, Placerville; phone 530-621-5512