Share Sac Digs Gardening and get free newsletter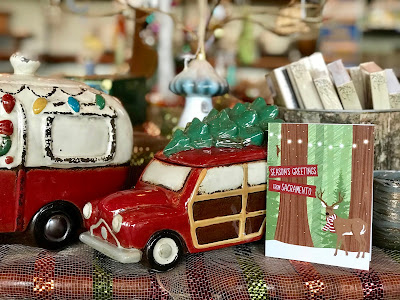 Did Santa bring what you wanted for Christmas?
If you need a last-minute gift, send a link to Sac Digs Gardening.
(Photo courtesy The Plant Foundry)
Need a gift that keeps on giving? Share a link to Sacramento Digs Gardening.
It's a great way to share gardening with friends and family in the new year.
Besides more than 200 posts (and counting) on local gardening and an easy-to-read garden calendar, our blog offers a free daily gardening e-newsletter, delivered directly to your email box with the latest garden news and events. Every Saturday features Dig In, your weekly garden checklist of what to do and plant now in the greater Sacramento area. Every Sunday, find a delicious recipe using what's in season here now.
If you haven't signed up for your free newsletter, it's easy. (Just remember to confirm the link that's sent to your email box to start daily delivery.)  Here's the link:
https://sacdigsgardening.blogspot.com
/. Click: "Subscribe" in the top right corner.
And if you know a gardening friend or relative -- veterans or just starting out – send them a link to the newsletter, too.
Thank you to all our readers for your support! Since June 1, we've already reached 862 Followers on Facebook. We need only 15 more Likes to hit another milestone: 800 Likes.
Apparently, some people Follow Sac Digs Gardening, but haven't yet decided they Like it. We hope to convince them to love Sac Digs Gardening. Watch us grow in 2019!
Merry Christmas to all!