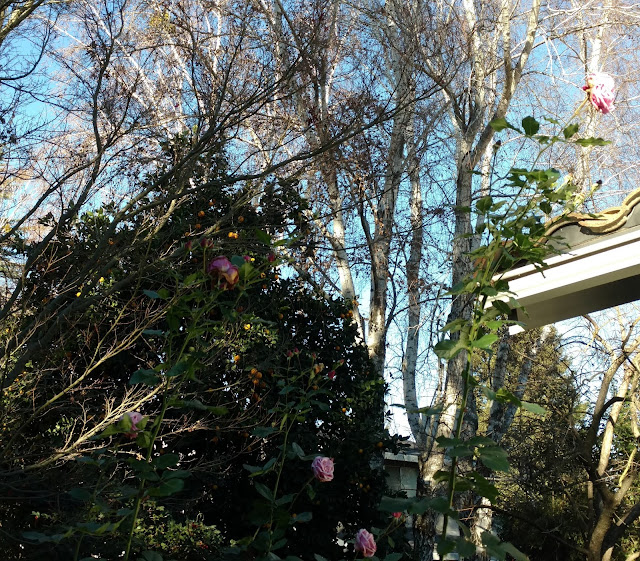 This "Fragrant Lavender Simplicity" shrub rose is blooming above the house gutters at right. The windy weather makes those canes dangerous. (Photo: Debbie Arrington)
Tall rose canes can be hazardous to plant and people
In winter, I garden with one eye on the weather forecast and the other on the calendar. Sun, wind or rain pushes various chores up the to-do list.

Windy conditions have me pulling out the loppers. I've got to do some pruning before somebody gets hurt.

Thursday's gusts sent tall rose canes swaying wildly, whipping about dangerously across paths and patio. If a prickly cane doesn't whack the house, it could whack me across the face. All that wind dancing can rip plants apart.

Those canes are coming down.

With 25 mph wind gusts forecast for Sacramento, protection against wind damage becomes a top priority. Which plants need help? Tie down or support new transplants that may be whipped around or bent. Prune tall rose canes that may be broken.

In my garden, I'm focusing on the rose canes.

It's a little early for me to be pruning my roses. Most still have leaves and flowers. They haven't yet gone dormant, the best time to prune.

Rose pruning is my biggest annual garden job. As a longtime rosarian, I've accumulated a lot of roses. I have well over 100 bushes in the ground. (That's small by rosarian standards, but there's only so much sun in our yard.)

Most of my rose pruning happens in January and February. Due to warm fall weather, scores of bushes in my garden are still blooming. That same warm weather also caused growth spurts. Several bushes pushed out incredibly tall canes that are susceptible to wind damage.

A prime example grows at the edge of our patio. "Fragrant Lavender Simplicity" is a shrub rose. Usually about 4 to 5 feet tall, it flowers abundantly in an amazingly long season, from early April to pruning time. It's still blooming, but right now at the end of 10-foot canes. They reach past the rain gutters. Because the canes are not much thicker than my finger, they really move.

If I prune the whole bush now, it will try to push out new growth in January. Those tender sprouts may be susceptible to frost. Also, part of pruning is removing all foliage. There are too many leaves; better to wait and let colder nighttime temperatures prompt leaf drop. (Then, I can just rake them up without getting scratched.)

Although the bush is not ready to fully prune, removing those tall canes will help start the process and protect the bush.

This shrub rose has more than 20 canes. I won't decide which to keep or take out until later. For right now, the whole bush is coming down to about 3 feet. It will be protected from wind damage and halfway pruned.

And I'll have a nice winter bouquet for indoors, out of all that wind.