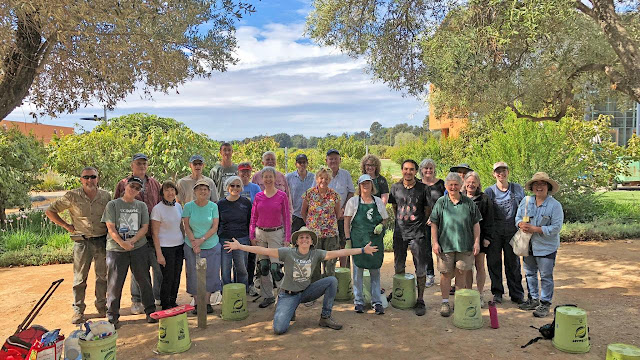 The UC Davis Arboretum & Public Garden relies on its volunteer teams to help with maintenance and plant sales. (Photo courtesy UC Davis Arboretum)
Besides gardeners, cashiers needed, too; deadline is Jan. 18
Spend more time outdoors; that's a resolution on many New Year's lists.

Here are opportunities to do just that in 2019. Besides getting more quality garden time, learn new skills as well as support a major local resource and important institution. (Get a sneak peek at fantastic plant sales, too.)
The UC Davis Arboretum and Public Garden needs new volunteers for its gardening, plant sale support and land stewardship teams. Applications are due Jan. 18. (Find a link for download and full details here:
https://bit.ly/2AkN6FT
). There's a $20 materials fee, payable at the first training session.

Volunteers learn specialized skills while improving their own expertise. For example, the gardening team helps maintain and beautify the arboretum's gardens, each devoted to a theme. Volunteer crews work mornings with the arboretum's horticulture staff, getting hands-on experience in sustainable gardening. Some volunteers also work in the arboretum's greenhouses, learning about propagation. Training for this team will be Thursday mornings, 9 a.m. to noon, Jan. 31-March 7.

Plant sale support team members help the arboretum (often without getting their hands dirty). These volunteers staff the arboretum teaching nursery's popular plant sales on Saturday mornings six to eight times a year plus weekday Learn & Shop events one to three times a month.

This team is a great opportunity for plant-loving volunteers with sales or cashier expertise. According to the arboretum, "Duties include overseeing plant counting and cashier teams at our weekend sales and handling all customer service activities for our smaller sales. If you love organizing, have good attention to detail, enjoy interacting with customers and other volunteers and you are comfortable handling sales transactions, this would be a great team for you. Please note that a background check will be required."
That team has three training dates: 9 a.m. to noon Thursday, Jan. 31; 9 a.m. to 12:30 p.m. Wednesday, Feb. 13; and 9 a.m. to 12:30 p.m. Tuesday, Feb. 26.

Want to learn to drive a tractor? The land stewardship team works with staff on the campus's naturalized areas. "Projects include light construction, trail repair, native plant care, weed control, and a variety of equipment and power tool operation," says the arboretum in its recruitment release. Training dates are 9 a.m. to noon Jan. 26, 27 or 28.

Also needed are volunteers for the Putah Creek Riparian Reserve for Thursday morning projects such as trail building as well as some farming and ranching. This opportunity features "a variety of equipment and power tools operation including but not limited to tractors, ATV and small excavator, chainsaws and string trimmers," the arboretum says. "You will learn the nuts and bolts of wildland management. Note that this is a more labor-intensive and physically demanding work."
Volunteers can sign up for Putah Creek at any time; training is ongoing.