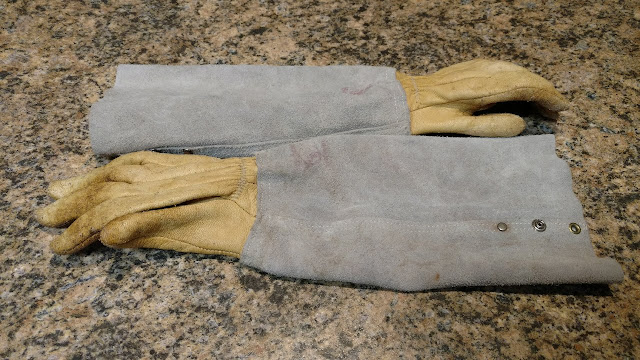 Gauntlets, such as these from Bear Wallow Glove Company, protect arms and hands while pruning roses.
(Photo: Debbie Arrington)
Goatskin offers excellent puncture resistance
When it comes to rose pruning, protection is crucial.
I know. I have the scars to prove it.
Fine-pointed prickles (a.k.a. thorns) can be wickedly painful. They easily penetrate most cloth or plastic garden gloves. They also snag on anything knit. Wearing rose-resistant gloves makes pruning much more enjoyable.
Leather (or at least something very thick, durable and puncture resistant) is a must. Most cowhide leather work gloves are tough enough to withstand bigger thorns. But they tend to not fit smaller or slimmer hands. Long prickles also find a way through split leather and cloth tops or cuffs, common features in work glove design.
Many longtime rosarians, like myself, use goatskin gloves. All leather, they protect the whole hand. Their fine grain is very rose-prickle resistant.
According to work glove makers, goatskin is considered the most puncture- and abrasion-resistant leather, important attributes when pruning roses. Goatskin's natural stretch allows the gloves to fit close and stay flexible. They provide protection while retaining dexterity, important for pruning smaller rose bushes.
Goatskin gloves are relatively inexpensive, about $20 a pair, and last for years. An example: Wells Lamont
goatskin work gloves
, available at Ace Hardware and Amazon.
As part of its American Heritage line, Bear Wallow Glove Company makes an excellent
goatskin garden glove
that stays pliable after getting wet. Bear Wallow gloves are available at nurseries as well as Amazon.
Usually while pruning, goatskin gloves and a woven long-sleeved shirt are enough covering for my hands and arms. I wear knit layers underneath the long sleeves, but try not to wear knits on top; the roses snag sweaters every time.
On damp days, I wear deerskin gloves. Like goatskin, deerskin is flexible, lightweight and thorn resistant. (Deers love to eat roses; their hides have built-in thorn resistance.) A big plus: Deerskin retains its suppleness after getting wet. It doesn't dry stiff. If I drop a glove, the bright gold color is easy to see in the garden.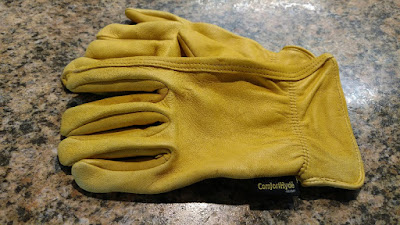 Deerskin gloves stay soft after getting wet. (Photo: Debbie Arrington)
In addition to the company's plain deerskin work gloves, the Wells Lamont
Comfort Hyde deerskin gloves
come insulated (available online at Amazon); that's great for winter pruning.
For the big jobs, I pull out the gauntlets. These are 18-inch ballroom-length leather gloves with goatskin hands and 12-inch cowhide sleeves. From Bear Wallow, they have survived a decade of climbers.
Available at nurseries or online at Amazon, these
Protector Rose Gauntlet Gloves
are expensive (about $60), but they're like armor against particularly thorny problems.
Besides pruning, they also come in handy when taking the cat to the vet.