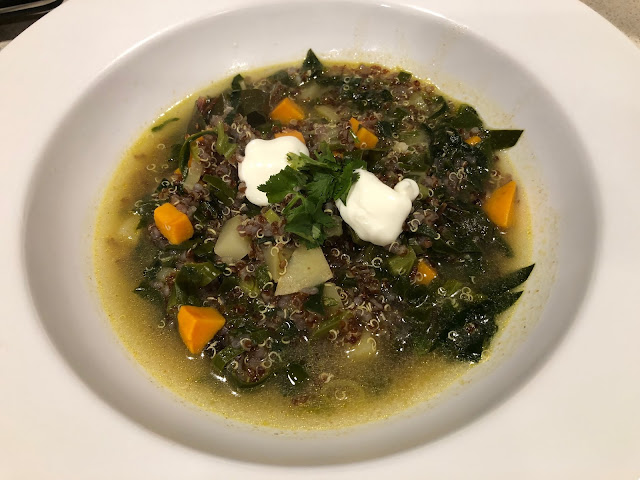 Healthy vegetables and quinoa combine in the winter dish. (Photos: Kathy Morrison)


Recipe: Nutritious greens, quinoa star in a flavorful vegetarian dish
It's cold, it's wet, and I want warm, cozy things to eat. But we just escaped the holidays, with all those holiday dishes -- oh, that beef sirloin and chocolate mousse cake -- and eating healthy food really is as much demand as desire now.
I pulled out my soup cookbooks and found a likely candidate in "
Love Soup
," by Anna Thomas, a longtime vegetarian author (of "
The Vegetarian Epicure
" and others). This cookbook won the 2010 James Beard Award for Book of the Year, Healthy Focus, no small achievement.
The base of the soup -- a stew, really -- is quinoa, used much like barley or rice here, but it packs a much bigger nutritious punch. There are 8 grams of protein in each 1 cup cooked quinoa. Potatoes and sweet potato cubes give the soup dinner-level heft, and a nice pile of spinach and chard add even more nutrition, including vitamins A, C and K, plus folic acid, iron, calcium and magnesium.
This recipe slightly adapts Thomas' version, which is itself an adaptation of cookbook author Deborah Madison's adaptation of a South American dish! (Proves most cooking is reworking recipes, really.)
I used red quinoa, which Thomas likes, but the recipe will work with any type, and would be lovely with one of those rainbow quinoa mixes often found in bulk bins. Also, using just spinach or just chard is fine, but I like the combination.
One more important note: Be sure to save the cooking liquid from the cooked quinoa! It would be really easy to drain it, then realize you were supposed to save it for the soup. (Ask me how I know this.) Drain it in a sieve over a large bowl or big measuring cup.
Quinoa stew with potatoes, spinach and chard
Serves 6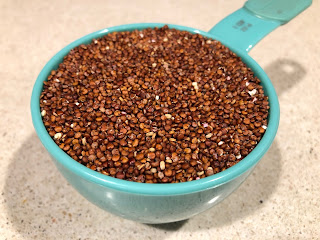 Red quinoa gives the soup a nice color. Any color will
Ingredients:
1 cup (6.5 ounces) uncooked quinoa
8 cups cold water
1 1/2 teaspoons salt, divided
8 ounces yellow potatoes (2 medium)
4 ounces sweet potatoes (half of 1 medium)
4 ounces (about 6) green onions, white and green parts
6 ounces spinach (prewashed baby spinach will work)
6 or 7 large stalks chard, long stems removed (save those for stir fry!)
2 1/2 tablespoons olive oil
1 or 2 large garlic cloves, chopped
2 teaspoons ground cumin (roasted type, if available)
1 cup low-sodium vegetable broth, commercial or
homemade
Cayenne pepper, ground, to taste
Ground black pepper, to taste
Juice of 1 lemon, or to taste
To finish/garnish:
1 cup chopped fresh cilantro, divided
1/2 cup sour cream, or favorite mild cheese such as moist feta, for serving
Other optional garnishes:
Harissa
Salsa
Instructions:
Rinse the quinoa thoroughly in a fine sieve, running cold water over it and stirring with a spatula or your fingers. Thomas notes that quinoa has a natural protective coating that is bitter. Much of it will be cleaned off by the time it's purchased, but this is just to be on the safe side.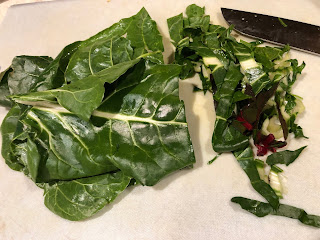 Cut chard leaves into thin slices.
Combine the rinsed quinoa with the 8 cups water in a large soup pot with 1/2 teaspoon salt. Bring the water to a boil, then lower the heat and simmer 12 minutes. With a sieve set over a large bowl or extra-large measuring cup, drain the quinoa, reserving the liquid. Set both the liquid and cooked quinoa aside.
Scrub the potatoes and dice; you'll have about 2 cups. Peel and dice the sweet potato; this yields 1 cup. (It's OK if there's more, or you want to use the rest of the sweet potato.) Slice the green onions. Thoroughly wash the spinach and chard, then cut the leaves into thin slices. The technique known as chiffonade, often used with basil, works well here: You stack several leaves, roll them tightly into a cigar shape and then slice.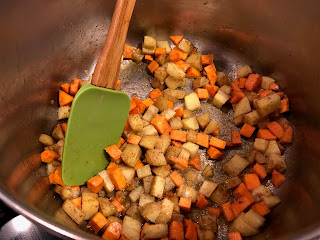 Stir the potatoes and sweet potatoes in the pot with the garlic,
Heat the olive oil in the soup pot over medium heat and stir the garlic in it for about a minute. Add the potatoes, sweet potatoes and the ground cumin, plus 1 teaspoon of salt, and stir for about 5 minutes.
Add the quinoa liquid to the pot, along with the green onions, and simmer 10 minutes. Add the spinach, chard, cooked quinoa, vegetable broth and some cayenne to taste (start with 1/4 teaspoon), and simmer for another 10 minutes, until the vegetables are tender but not mushy.
Taste the soup, and add salt if desired, and some ground black pepper. Stir in the fresh lemon juice, then about half of the chopped cilantro.
If using sour cream, stir it to smooth it out.
To serve, ladle the soup into bowls and top with a dollop or two of sour cream, or sprinkle on the cheese of your choice. Sprinkle on some of the cilantro.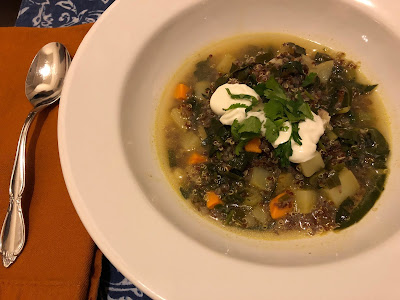 Personalize the garnishes; I prefer sour cream but cheese also works.
Serve with slices of artisan bread, and pass the sour cream or any other desired garnishes at the table.