Heritage rose expert Scanniello at three local events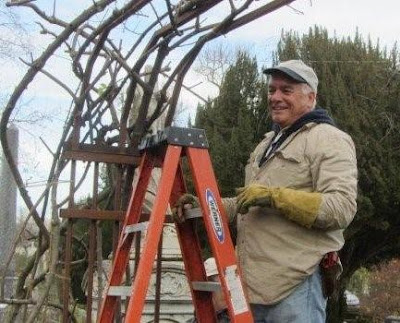 Always entertaining as well as informative,
Stephen Scanniello will lead two workshops at the Historic City Cemetery.
(Photo: Courtesy Judy Eitzen)
Stephen Scanniello, the "rock star of roses," returns to Sacramento for three events this week.
Probably the nation's most famous heritage rose expert, Scanniello will be the guest speaker at the Sacramento Rose Society's January meeting, 7:30 p.m. Thursday, Jan.10, at the Shepard Garden and Arts Center, 3330 McKinley Blvd., Sacramento. His presentation is free and open to the public.
Roses brought friendships as well as opportunities for Scanniello, president of the Heritage Rose Foundation and curator of the New York Botanical Garden's Peggy Rockefeller Rose Garden. He's created gardens for New York's rich and famous. Among his rose friends is the original Mary Poppins, Julie Andrews. He'll share stories about how those rosy relationships grew.
Scanniello currently is leading efforts to restore the garden of Alexander Hamilton's Harlem home and Elizabeth Park, the nation's oldest public rose garden in Hartford, Conn. He has lots of entertaining stories about those projects, too.
Saturday, Scanniello will lead two pruning demonstrations at the Historic City Cemetery's heritage rose garden, the main reason Scanniello has become a frequent Sacramento visitor. Based in New Jersey, he's made pruning the cemetery's world famous roses an annual pilgrimage.
At 9 a.m., Scanniello will lead a workshop on how to prune climbing roses, using the cemetery collection as hands-on examples. Scanniello literally wrote the book on this subject; he's the author of "Climbing Roses" and five other books.
At 1 p.m., Scanniello turns his attention to pruning heritage roses, including the cemetery's many Victorian rarities. Known for their intense fragrance as well as bountiful blooms, these old garden roses need special attention. This expert will share how he treats these unusual bushes to bring out their best.
Suggested donation for each workshop is $10 with proceeds supporting the cemetery garden. Wear sensible shoes; paths can be slippery.
Street parking is available near the cemetery, located at 1000 Broadway, Sacramento. For details:
www.cemeteryrose.org
.
- Debbie Arrington