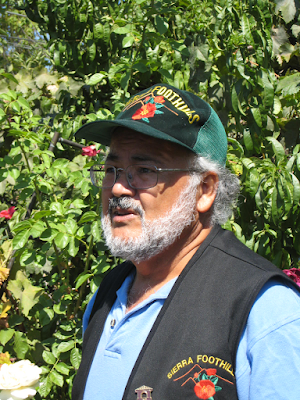 Master rosarian Baldo Villegas leads a free rose
care workshop including his speed pruning method.
(Photo: Courtesy Sierra Foothills Rose Society)
Baldo Villegas leads winter rose care workshop indoors
Don't have time to prune? It only takes a few minutes to finish a rose bush.
Baldo Villegas will show you how. This master rosarian can prune a full-size bush in three minutes – or less.
Villegas leads a free winter rose care workshop Saturday, Jan. 12, at Maidu Community Center, 1550 Maidu Drive, Roseville. Presented by the Sierra Foothills Rose Society, the indoor workshop starts at 8:30 a.m. and wraps up at 1:30 p.m. following a chili cookoff. The public is welcome.
Villegas perfected his speed-pruning method out of necessity. He maintains more than 3,000 rose bushes at his Orangevale home.
Sacramento's beloved Bug Man, Villegas is a retired state entomologist and knows every rose pest and problem seen in California. He'll share his advice on how to grow healthier, happier roses.
In addition, longtime rosarians will offer their pruning expertise. There will be plenty of hands-on opportunities for newcomers, too. Bring gloves, bypass pruners and loppers. Free sharpening will be available. (Donations welcome.)
The day's schedule covers a broad range. Following morning refreshments, the program gets underway with a 9 a.m. discussion of pruning tools and care. At 9:15, Villegas and others share their pruning tips by type of rose; not all bushes are pruned alike. That's also when he'll demonstrate his three-minute method.
At 10 a.m., the workshop will break down into smaller groups to tackle potted roses, ranging from miniatures and hybrid teas to floribundas and polyanthas. At this rose workshop, all the pruning is done indoors, usually on tables; there's no stooping in cold, wet rose beds. After pruning, most of those roses will be awarded to attendees in a raffle.
At 10:45, "Roses in the Landscape" shows the many ways roses can be incorporated into Sacramento area gardens. Then, Villegas will lead a question and answer session on controlling disease and pests in the garden. Chili is served at 12:30 p.m.
For more details:
www.sactorose.org
or
owendyk@gmail.com
.
- Debbie Arrington