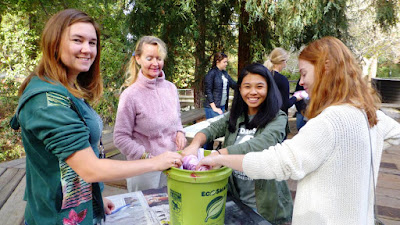 Arboretum Ambassadors and community members tie-dye t-shirts
with beets at last year's event.
(Photo: Courtesy UC Davis Arboretum)
Use colors from garden, food sources in free Arboretum workshop
Color in your garden or kitchen can become wearable art. Learn how during a free natural tie-dye workshop, presented by the Arboretum Ambassadors at UC Davis.
Set for 1 to 3 p.m. Saturday, Jan. 19, at the Arboretum's Wyatt Deck on Arboretum Drive, this family-friendly event will introduce many sources of natural color, from beets and carrots to acorns and walnut hulls. Then, see those natural dyes in action as the ambassadors tie-dye garments and other cloth items.
Participants may bring one white item they'd like dyed, such as t-shirt, shorts, pillow case or pair of socks. They'll take home something unique.
Free parking is available in Visitor Lot 5. Questions? Call (530) 752-4880. For more details:
http://arboretum.ucdavis.edu
.
- Debbie Arrington