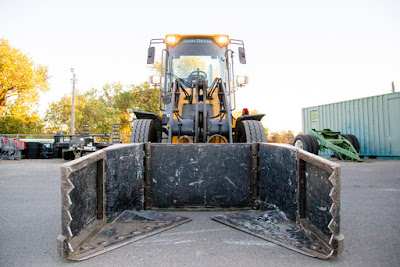 The Claw's pickup season ends Jan. 27. (Photo courtesy City of Sacramento)
Get pruning done before The Claw is gone
Prune, prune, prune; that's what tops Sacramento's garden to-do list -- especially if you want to make use of The Claw.
Jan. 27 wraps up the city's winter leaf season street pick-up of green waste. Several neighborhoods, such as The Pocket or Greenhaven, will get their last scrape Monday or Tuesday, which means any prunings too big or bulky for green-waste containers need to get out to the street pronto. Check when to expect leaf season pick-up on your block here:
https://bit.ly/2ANt2w7

For street pickup, limbs should be cut to under 3 feet long and should be no more than 4 inches in diameter. Piles should not exceed 4 by 4 by 9 feet (that's about five cubic yards). No plastic bags.

Got too much pruning? Residents can still call for special pickup as well as fill up their weekly green waste containers.

Although more rain is forecast Sunday, Jan. 20, the rest of the week is predicted to be dry, according to the National Weather Service. Thanks to more than 4 inches of rain this month, Sacramento's seasonal rain total is up to 8.92 inches, a half inch more than average.

Moist soil makes for easier digging. Need some ideas?

* Plant bare-root roses, trees and shrubs. If the weather is wet and your ground seems saturated, consider planting your garden additions in large black plastic pots. The black plastic will warm up faster than the ground soil and give roots a healthy start. Then, transplant the new addition (rootball and all) into the ground in April as the weather warms.
* Transplant pansies, violas, calendulas, English daisies, snapdragons and fairy primroses.
* In the bulb department, plant callas, anemones, ranunculus and gladiolus for bloom from late spring into summer.
* Plant blooming azaleas, camellias and rhododendrons. If you're shopping for these beautiful landscape plants, you can now find them in full flower at local nurseries.
* Divide daylilies, Shasta daisies and other perennials, then replant.
* Cut back and divide chrysanthemums.
* In the vegetable garden, plant fava beans, head and leaf lettuce, mustard, onion sets, radicchio and radishes.
*Plant bare-root asparagus and root divisions of rhubarb.