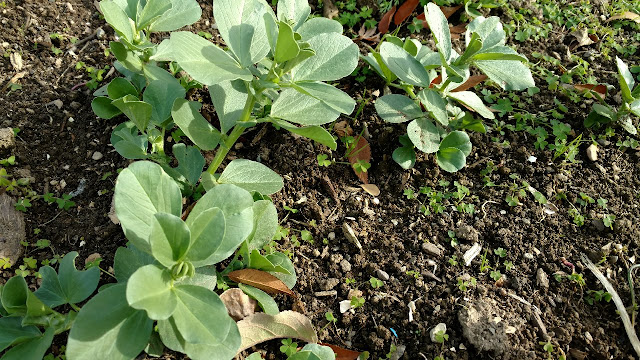 Young fava bean plants can be harvested to use like spinach. They have the flavor of fava beans without the work. (Photos:
Debbie Arrington)
Recipe: Leaves taste great, need a lot less work
Fava beans are a winter favorite in Northern California. Many gardeners I know plant them with no intention of eating the results; they use favas as a cover crop to keep down weeds and replenish the soil's nutrients. They treat favas like fancy alfalfa.
They're missing out -- twice. Planted now, this interesting vegetable actually offers two crops: The flavorful beans and the lesser-known greens.
With a delicate flavor all their own, the leaves of young fava plants cook just like spinach -- quickly. Also like spinach, it takes a lot of fava leaves to yield a cooked serving.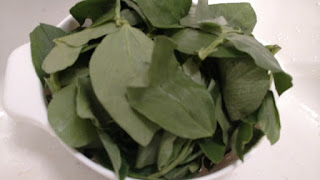 Freshly washed fava greens
Chefs use fava greens to add green color and distinct fava flavor to pastas and other dishes.
The greens also are used to stretch the impact of fava beans in a finished dish.
Fava beans are time-consuming to prepare;
they need to be shelled twice. Fava greens offer
some of that fava flavor with a lot less effort:
Just remove the tough stems and wash.
Another plus for fava greens: They can be harvested four weeks after planting. When thinning rows of fava beans, keep the extras to use as greens.
Baked fava green-stuffed shells
Makes 3 to 4 servings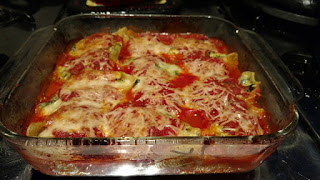 Baked stuffed shells make a delicious vegetarian dinner.
Ingredients:
12 jumbo pasta shells
4 cups fresh fava greens, stemmed and washed
2 tablespoons extra virgin olive oil (divided)
1/2 cup chopped onion
6 cremini or white mushrooms, washed and
sliced
1 cup ricotta cheese
2 cups mozzarella cheese, finely shredded (divided)
1/2 cup Romano cheese, grated
1 egg
Non-stick cooking spray
1 cup diced tomatoes
1/4 cup white wine
Salt and pepper to taste
Instructions:
Preheat oven to 350 degrees F. Spray or oil an 8-inch baking dish.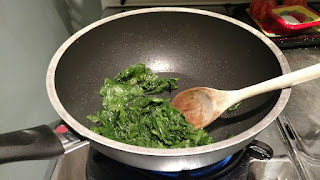 Sauté the fava greens until wilted.
Prepare pasta shells according to package directions until just tender. Drain and set aside.
Remove tough stems from fava greens. Make sure leaves are well washed.
In a large skillet, heat 1 tablespoon olive oil. Sauté onions and mushrooms until onions are transparent. Transfer sautéed onions and mushrooms to food processor and pulse a few times.
Return the pan to the stove and add the other tablespoon of oil. Over medium heat, stir in the fava greens by handfuls; stir-fry until wilted.
Add cooked fava greens to the food processor and pulse lightly until mushroom-green mixture is chopped.
In a large mixing bowl, combine ricotta, Romano and 1 cup mozzarella cheeses. Beat egg and add to cheeses. Fold in mushroom-green mixture.
Stuff each cooked shell with about 2 to 3 tablespoons of the mushroom-green-cheese mixture. Arrange the stuffed shells in the prepared baking dish.
Make sauce. In a pan, gradually heat diced tomatoes. Stir in wine. Bring just to a boil, then reduce heat; simmer 5 minutes. Add salt and pepper to taste.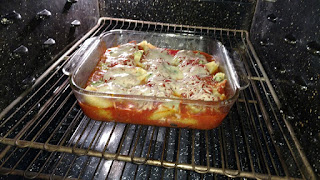 The stuffed shells bake for 45 minutes.
Spoon the sauce over the stuffed shells. Top with remaining shredded mozzarella.
Bake in preheated 350-degree oven for 45 minutes or until done. Cover with foil if cheese topping starts to become too brown.