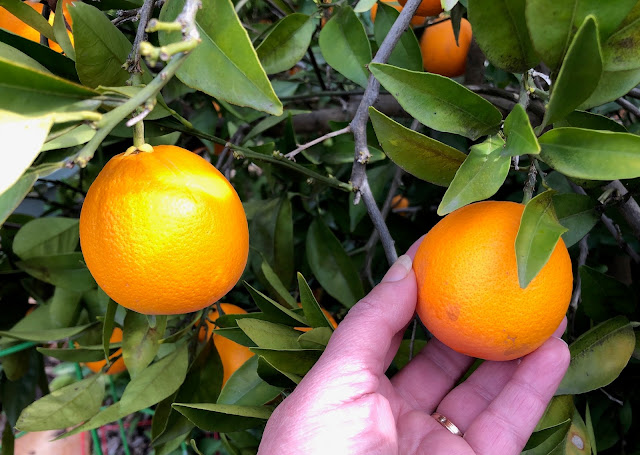 A gentle squeeze will let you know if an orange is ready to pick -- it will give just a little. But be sure to taste it before picking more. (Photos: Kathy Morrison)

Warm weather wakes up garden; pick citrus
January weather like this is why so many people move to California -- or never leave.
Our gardens sure seem to be enjoying these sunny afternoons. With temperatures in the high 60s, new growth is sprouting everywhere. The weather feels like spring, and plants are responding.
Make the most of these dry, warm days by finishing winter chores. Then, welcome a (likely) early spring.
* Pick citrus as it ripens. Test oranges for flavor; if not sweet, wait another week and test again. Navel oranges ripen first, followed by blood oranges and Valencias. For more on harvesting citrus, read
this
.
* Prune roses, even if they're still trying to bloom. Strip off any remaining leaves, so the bush will be able to put out new growth in early spring.
* Prune Christmas camellias (Camellia sasanqua), the early-flowering varieties, after their bloom. They don't need much, but selective pruning can promote bushiness, upright growth and more bloom next winter. Feed with an acid-type fertilizer. But don't feed your Japonica camellias until after they finish blooming in early March. Feeding while camellias are in bloom may cause them to drop unopened buds.
* Clean up leaves and debris around your newly pruned roses and shrubs. Put down fresh mulch or bark to keep roots cozy and cut down on weeds.
* Apply horticultural oil to fruit trees to control scale, mites and aphids. Oils need 24 hours of dry weather after application to be effective.
* Spray a copper-based oil on peach and nectarine trees to fight leaf curl.
* Plant bare-root roses, trees and shrubs. If your soil seems saturated, plant your garden additions in large black plastic pots. Then, transplant the new addition (rootball and all) into the ground in April as the weather warms and soil dries.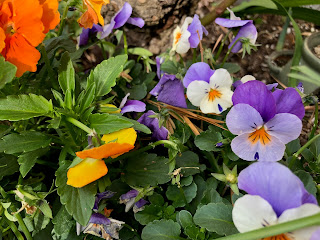 Violas brighten up dormant landscapes.
* Transplant pansies, violas, calendulas, English daisies, snapdragons and fairy primroses.
* In the vegetable garden, plant fava beans, lettuce, mustard, onion sets, radicchio and radishes.
*Plant bare-root asparagus and root divisions of rhubarb.