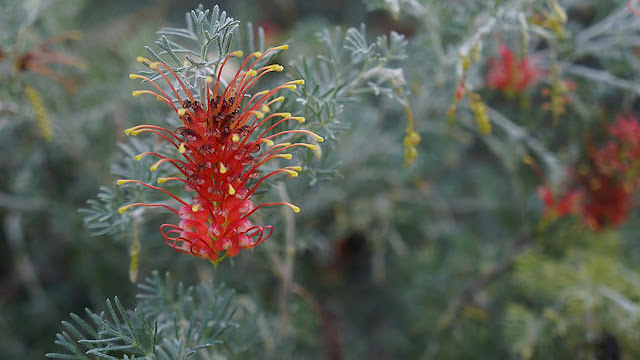 This grevillea is among the many unusual plants in the UC Davis Arboretum's Australia collection.
(Photo courtesy UC Davis Arboretum)
Arboretum tour highlights 'Delights from Down Under'
Where will the next wave of water-wise plants originate? Many experts predict Australia, where coastal regions have a climate similar to California.
See many of these Aussie natives in bloom during a special tour Saturday morning, Feb. 2, at the UC Davis Arboretum. Starting at 10 a.m., "Delights from Down Under" will explore flowering perennials, shrubs and trees in the arboretum's Australia and New Zealand collections.
From kangaroo paws to grevilleas, these unusual and drought-tolerant plants have made themselves right at home in Davis. Most are suitable for home landscapes, too, and are natural water savers.
This free guided tour starts at the Arboretum GATEway Garden, located on Old Davis Road. Free parking is available on campus in the lot at Old Davis Road and First Street or, off campus, in the public lot at First and F streets. (Parking in the nearby Davis Commons lot is not recommended.)
For more details, call (530) 752-4880 or click on
http://arboretum.ucdavis.edu
.
- Debbie Arrington