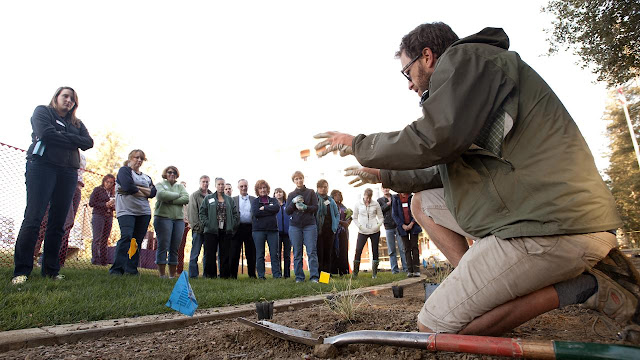 Horticulturist Ryan Deering explains some planting basics during a UC Davis Arboretum tour. He'll lead the next "Learn & Shop" event, focusing on how to achieve garden impact. (Photo: UC Davis Arboretum)
Arboretum offers quick course in use of shape, texture
What makes a landscape "pop"? Contrast.
That's easier said than done. Contrast in the garden blends different plants with various growing traits – tall, short, round, angular, spiky, soft, etc. -- in a way that shows them off to their best advantage.
With the right balance, that contrast also pleases people by adding visual interest to a garden year round.
How do you achieve that balance? Learn from the experts at the UC Davis Arboretum in a special class, "Shape and Texture for Garden Impact," set for 10 a.m. Feb. 13 at the Arboretum Teaching Nursery.
This two-hour course is only open to Friends of the UC Davis Arboretum and Public Gardens. Fortunately, attendees can sign up for membership at the same time as registration for the class – and get a $10 free plant coupon as a bonus.
That coupon will come in handy immediately. This is one of the arboretum's "Learn & Shop" events. At the end of the class, attendees enjoy a private sale at the arboretum's nursery and their choice of thousands of water-wise plants.
Staff horticulturist Ryan Deering will lead the class on a guided walking tour through the arboretum's West End gardens to show how a variety of plants makes the greatest visual impact. He'll offer his suggestions of different plants for various garden situations as well as some of his favorite pairings.
Then, it's back to the nursery for a chance to take home some of those unusual plants featured on the tour and browse without a crowd.
Registration is open now and the class is expected to sell out quickly. Fee is $24 for Friends, $36 with a reserved parking space in the nursery's lot. Additional parking ($9) is available in the campus lots.
The Arboretum Teaching Nursery is located on Garrod Drive near the small animal veterinary hospital. For more details and registration:
https://arboretum.ucdavis.edu
.
- Debbie Arrington