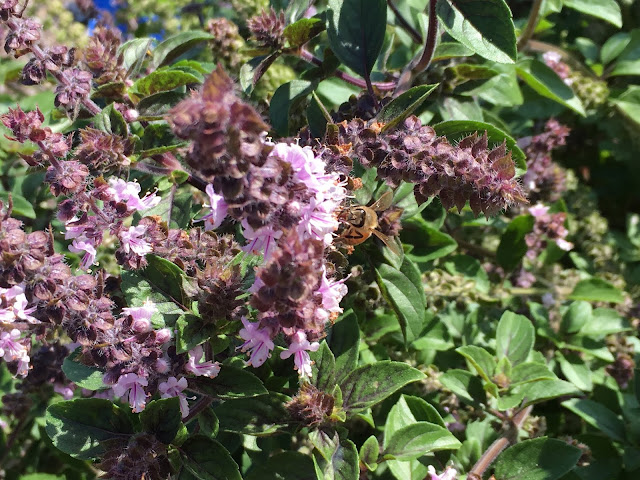 African blue basil is among the many unusual herbs at the Fair Oaks Horticulture Center. Bees love it, too.
(Photo: Kathy Morrison)
Master gardeners host Open Garden, filled with useful demonstrations
Start your gardening year on a productive note with the help of the UC Cooperative Extension master gardeners of Sacramento County.
From 9 a.m. to noon Saturday morning, Feb. 9, the master gardeners host a winter open garden at the Fair Oaks Horticulture Center, 11549 Fair Oaks Blvd., in Fair Oaks Park. While the master gardeners tend to tasks, they offer mini-demonstrations and hands-on workshops from the vegetable garden to the easy-pick orchard. Admission and parking are free.
At 10 a.m., master gardeners will present mini talks on annual and perennial herbs, cane pruning grapes, and building a hot compost pile.
Demonstrations throughout the morning will cover:
* Pruning fruit trees and ornamental grasses;
* Starting new berry plants by tip rooting cane berries and layering blueberries;
* Planning for late winter and early spring vegetables; and
* Dividing and transplanting strawberry crowns.
Also, bring your gardening questions to the Ask the Master Gardener table. Got a pest, problem or mystery plant? Bring photos or samples (inside zippered plastic bags) for expert opinions.
Details:
sacmg.ucanr.edu