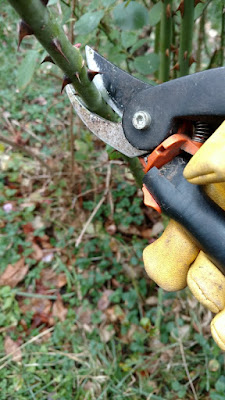 Use bypass pruners for trimming roses,
small shrubs and perennials.
(Photo: Debbie Arrington)
Green Acres offers free workshops, covering perennials, shrubs, trees
Need help making the first cuts? Learn how to "Prune Like a Pro" at free workshops, hosted by
Green Acres Nursery & Supply
.
At 10 a.m. Saturday, Feb. 9, professional horticulturists will share their secrets and techniques on how to prune perennials, shrubs and trees, from roses to evergreens. They'll also cover methods used to prune hedges and topiaries, which need regular maintenance to look (and grow) their best.
These experts will demonstrate the methods used by professional landscapers and offer tips on tools, using pruning to train plant growth and ways to save time.
"Prune Like a Pro" workshops will be offered at all five Green Acres locations:
* 9220 E. Stockton Blvd., Elk Grove;
* 205 Serpa Way, Folsom;
* 5436 Crossings Drive, Rocklin;
*901 Galleria Blvd., Roseville; and
* 8501 Jackson Road, Sacramento.
This is part of Green Acres' series of Saturday morning workshops. Next week's topic: "Veggie Gardening 101."
More details:
www.idiggreenacres.com
.
- Debbie Arrington