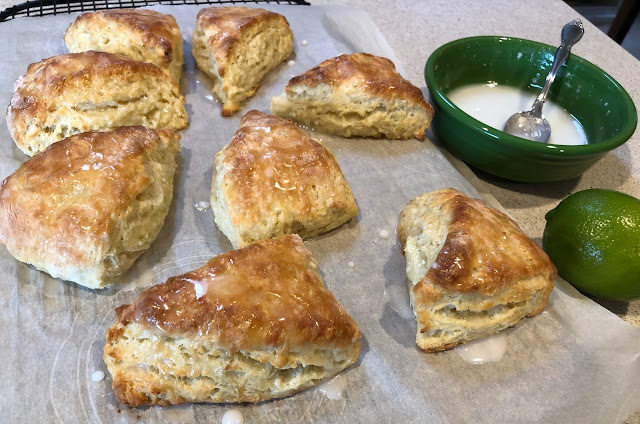 A light lime-juice glaze is drizzled on the warm scones, which are not too sweet. (Photos: Kathy Morrison)
Recipe: Yogurt helps keep these baked goodies moist and fluffy
Most Sundays I bake something to go with coffee and the larger paper. Scones are part of that repertoire, even though so many scone recipes result in heavy, crumbly, over-glazed wedges. However, searching for something different a few years ago, I found a recipe that uses yogurt to lighten and moisten the end result.
Since then I've played around with the ingredients quite a bit and found that using citrus in it is my favorite variation. Lemons are great, but pretty common in scones. Why aren't limes used more? They're in season now, too. Well, the results below are my answer to that.
I've made this recipe a couple of times this winter. In one I relied on the easy-to-find Mexican green limes folks buy for guacamole and margaritas. Another used some sweet limes I ran across at the farmers market a few weeks ago. These yellow citrus fruits (
Citrus limettioides
) look more like Meyer lemons, are really juicy, and have a sweet floral note I'd never tasted before in citrus. If you can find some, try them -- they're quite wonderful.
One more note: This recipe adapts well to mix-ins, as long as you don't overdo it. The scones are fluffy, almost like biscuits, and you want to add a little texture without weighing them down.
Fluffy lime scones
Makes 8 large wedges or 12 smaller ones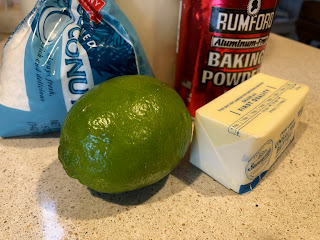 I used a tart lime and unsweetened shredded coconut in the
most recent version of this recipe.
Ingredients:
Zest from 1 lime
2 cups unbleached all-purpose flour
2 teaspoons baking powder
¼ teaspoon salt
3 tablespoons granulated sugar
Optional mix-in: 2 tablespoons poppy seeds OR 3 tablespoons unsweetened shredded coconut OR ¼ cup finely chopped dried cherries
5 tablespoons cold unsalted butter, cut into ½-inch chunks
1 egg
1 cup plain low-fat or whole milk yogurt
¼ teaspoon vanilla extract
1 ½ teaspoons fresh lime juice
Glaze:
1 tablespoon fresh lime juice
¼ cup powdered sugar
Instructions:
Heat oven to 400 degrees F.
Zest the lime and stir the zest into the flour in a large bowl. Add the baking powder, salt, sugar and any mix-in that you're using. Using a pastry blender or two knives, cut in the butter until the mixture looks fairly evenly bumpy and the butter chunks are about the size of peas. (A few slightly larger ones are OK.)
Cut the zested lime in half and juice both halves. Set juice aside for now.
In a medium bowl or large measuring cup, beat the egg and the yogurt together with a fork. Blend in the vanilla extract and 1 ½ teaspoons of fresh lime juice.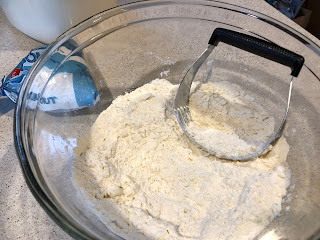 Cut the butter into the flour mixture.
Blend the yogurt mixture into the flour mixture until all the flour is incorporated but the dough still looks somewhat shaggy. Don't overmix the dough.
On a floured pastry cloth, turn out the dough and knead it gently eight times, working it into a 1-inch-high round. Dip a large sharp knife into flour and cut the round into 8 or 12 even wedges.
Gently transfer wedges to a parchment-lined insulated cookie sheet (or on top of two regular cookie sheets that fit together). The wedges can be positioned in a round that will bake together, or separated to form more defined edges.
Bake the scones 20 minutes or until they are fully golden brown. Remove the pan to a cooling rack. Mix the glaze ingredients together and drizzle the glaze over the still-warm scones.