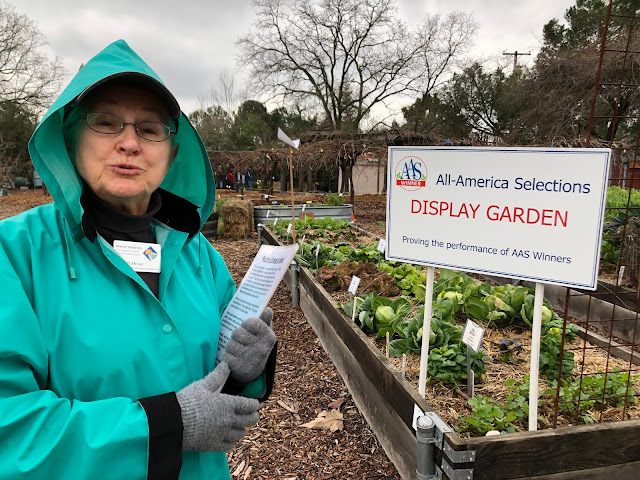 Bundled up against the cold, master gardener Gail Pothour talks about the Horticulture Center being named an AAS Display Garden. (Photos:Kathy Morrison)
Horticulture Center includes AAS display garden this year
Hardy souls who braved the cold and wet over the weekend at the UCCE master gardeners' Horticulture Center in Fair Oaks were treated to a bit of delightful news: The site's extensive vegetable garden this year is an
All-America Selections
display garden.
This means every variety of summer vegetable, herb and flower chosen for the nine raised beds, the planting barrels and even the straw-bale garden will be from the AAS seed library. The seeds are from the 2014-19 years, said Gail Pothour, one of the vegetable garden specialists among the Sacramento County master gardeners.
So what's the big deal? Any plant variety named an AAS winner has been tested all over the United States and Canada, in different climates, and been found to be an exceptional producer.

Display gardens can be flowers only, edibles only, or both. Of the nearly 200 display gardens AAS lists in the U.S. and Canada, just seven are in California. The next closest is in Walnut Creek.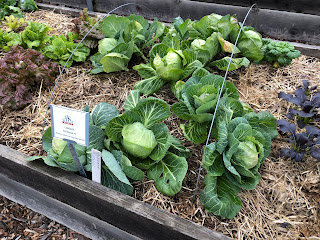 Solid cabbage heads, a first for the Horticulture Center.
Right now, two of the Horticulture Center's raised beds are planted in AAS winter varieties. "We have our first solid cabbage heads, ever," Pothour said, poking a plant of the Katarina variety, the head already the size of a softball.
This means home gardeners don't have to guess how a certain seed or plant is going to work in Sacramento County: Everything grown in the vegetable garden will have the AAS stamp of approval.
Of course, not everything is guaranteed to survive garden pests. Pothour said birds ate all the broccoli sprouts before the master gardeners could get them protected with row covers. But there are plenty of plants to see now, and many more are being started this month for transplanting in spring. The next Open Garden is set for March 9.
Another popular offering at Saturday's event was the hot compost demonstration. Several types of compost bins were on display, with the master gardeners' favorites labeled: The geo-bin is the easier of the two to set up, but the wooden stacking style also works well. The master gardeners also opened a worm composting box for display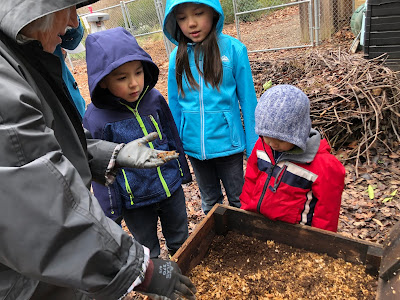 Young visitors at the Open Garden meet some worms from the compost box.
and kids were able to get up close and personal with the red wigglers before the cold wind and rain sent all gardeners scurrying for home.
A separate worm composting workshop will be offered Feb. 23 at the UC Cooperative Extension headquarters, and a Backyard Composting 101 workshop is scheduled March 5 at the ACC Senior Services. For details, visit
sacmg.ucanr.edu
.