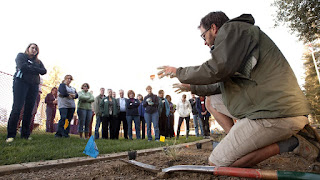 Ryan Deering of the UC Davis Arboretum staff
will lead the "Learn & Shop" landscape class,
but a week later than originally scheduled.
(Photo: Courtesy UC Davis Arboretum)
Wednesday walk cancelled; landscape class rescheduled
Heavy rain on Wednesday cancelled one event at the UC Davis Arboretum and prompted rescheduling of another.
With 2 to 3 inches of rain forecast, soggy conditions nixed the monthly "Walk with Warren," originally set for noon Wednesday. Master gardeners Judy Hecomovich, Donna Moyer and Pat Dressendorf were scheduled to lead this tour through the arboretum gardens, subbing for arboretum director emeritus Warren Roberts.
"Learn & Shop: Shape and Texture for Garden Impact," which had been set for Wednesday morning, has been rescheduled to 10 a.m. next Wednesday, Feb. 20. With the rescheduling, a few slots may still be available in that class, which is open to Friends of the Arboretum. New members can sign up at the same time as class registration.
In this two-hour course, staff horticulturist Ryan Deering will lead the class on a guided walking tour through the arboretum's West End gardens to show how a variety of plants makes the greatest visual impact. He'll offer his suggestions of different plants for various garden situations as well as some of his favorite pairings. Following the tour, attendees enjoy a private sale at the Arboretum Teaching Nursery and a chance to take home some of the unusual water-wise shrubs, perennials and trees they saw in the arboretum gardens.
Advance registration is required. Fee is $24 for Friends, $36 with a reserved parking space in the nursery's lot. Additional parking ($9) is available in the campus lots.
The Arboretum Teaching Nursery is located on Garrod Drive near the small animal veterinary hospital. For more details and registration:
https://arboretum.ucdavis.edu
.
- Debbie Arrington